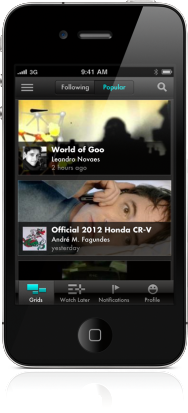 Showyou, an iOS app that aggregates videos from a variety of social networking services, has relaunched with new navigation options to help users find their friends' media.
Developers at Remixation launched Version 3.0 of the application on Thursday morning. The app collects videos posted by a user's contacts on Facebook, Twitter, and Tumblr—and also from their subscribed channels on YouTube and Vimeo—and displays them together for an "immersive" Web-video-watching experience. (The app also features videos from The Daily Show, The Colbert Report, and other prominent "publishers.") Users can share their own videos with other Showyou subscribers, or post them from the app directly to Facebook and Twitter.
Thursday's update revamps Showyou's navigation and search, letting users tap on grids and zoom in to see videos posted by particular friends or at particular social networking sites, while also allowing them to browse videos by category—with separate categories for "popular" and "recent" results—or by Twitter hashtag.
The app is AirPlay-compatible, allowing users to display videos on their television using the second-generation Apple TV. Developers expect to eventually generate revenue within the app by offering advertising and subscription options.
Showyou is free, and compatible with the iPhone, iPod touch, and iPad. It requires iOS 4.0 or later.