Spend any time with some of the iOS apps created by Moonbot Studios, and you get the sense that the developer really has a passion for words and stories. From The Fantastic Flying Books of Mr. Morris Lessmore to the more recent release Numberlys, Moonbot's visually striking apps convey a love for language and an appreciation for how story-telling can add color to our lives.
Take Morris Lessmore, a masterpiece of an iPad app that we recognized with an App Gem award last year. Morris Lessmore tells the story of a Buster Keaton-esque young man whose life gets upended, only for him to find comfort in a world of books.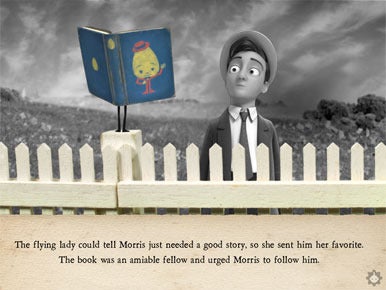 Morris Lessmore began life as an animated film—it's vying for an Academy Award for best animated short later this month—and Moonbot could have simply repackaged the movie as an app without any changes and it still would have impressed. The look of the app is distinct and evocative, the music perfectly complements the animation, and the story itself is undeniably moving.
But Moonbot went beyond merely repurposing the Morris Lessmore film. Instead, the app comes loaded with interactive features that augment the storyline. When a windstorm blows Morris out of his comfortable life, you can make houses fly off with a flick of your finger. A bowl of alphabet soup becomes a canvas for forming words. You help Morris piece together fragments of a torn up page. Everything neatly fits in with the action, and it's a terrific way to get drawn into the saga of Morris Lessmore, particularly for younger readers.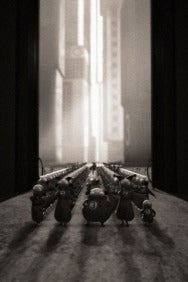 In interviews elsewhere, the brains behind Moonbot have said that they're not really trying to do movies or books or games—rather, they're creating apps that draw upon elements from all three categories. That philosophy is on display to perfection in The Fantastic Flying Books of Mr. Morris Lessmore. It's a breath-taking example of the new kind of story-telling that the iPad can foster. But more important, it's just a really great story to get lost in for a while.
Numberlys is Moonbot's follow-up to Morris Lessmore, and like its predecessor, it offers up a very distinctive visual style. The story is set in a monochromatic universe dominated entirely by numbers, and it follows the adventures of five roly-poly creatures in their quest to introduce letters into their dull, gray world. The description for Numberlys name-checks such black-and-white classics as King Kong and Metropolis, and while you can certainly see those influences in the sprawling cityscape fo the app, it's also clear that Moonbot was able to create a striking world all of its own for this app.
Numberlys is not just about telling a story, but also introducing interactive elements that engage the reader. You help the Numberlys create the letters of the alphabet through a series of activities—firing a cannon to turn numbers into letters, spinning gears to pull letters into shape, and using a trampoline to split letters in two. Unfortunately, it takes a little while for those interactive elements to come into play—the young readers who will likely get the most out of this futuristic tale of ABCs could become frustrated long before they get to the meat of the story.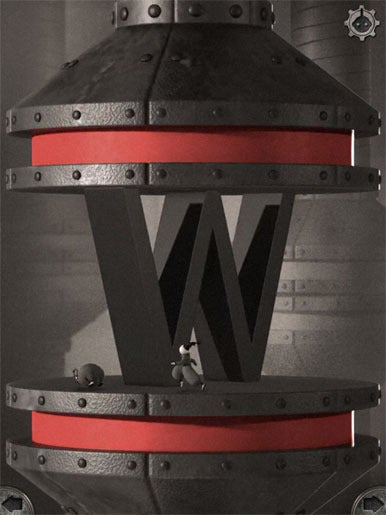 It also doesn't help that the version of Numberlys that I reviewed—1.0.3—is still a little unpolished. The transitions from narration to animation to activity are often abrupt and jarring. They're certainly more noticeable than they are in Morris Lessmore, which makes it hard to get lost in the story.
Numberlys runs on all iOS devices—great news if you're an iPhone owner, and you're eager to dive into Moonbot's immersive worlds. If you're using an older device, however, note that the intricate animations in Numberlys may be too much for your hardware to bear. On my iPhone 3GS, for example, the animation was a bit halting, as opposed to the free-flowing action I saw when watching the story unfold on my iPad. I'd recommend at least an iPhone 4 or fourth-generation iPod touch for enjoying the full Numberlys experience. Also, crashing continues to be a problem with version 1.0.3, at least on my original iPad.
Rough patches aside, there's plenty to like about Numberlys, not the least of which is probably the most stirring rendition of the ABC song ever recorded. I'll live with the odd crash or occasional jarring transition if it means an app that really embraces a new kind of storytelling that's perfectly suited for Apple's iOS devices. On that front, Moonbot Studios is delivering again and again.
[Philip Michaels is the editor of Macworld.com.]