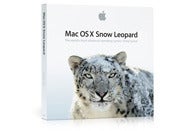 In the wake of the recent Security Update 2012-001 for Mac OS X 10.6.8 Snow Leopard, some Mac users are reporting a variety of bugs and compatibility issues with programs that rely on Rosetta, the software that allows programs written for the PowerPC processor architecture to run on Intel-based Macs.
According to an article at Tidbits, as well as reports from MacInTouch and the Apple discussion forums, the update has caused several problems for Snow Leopard users operating Rosetta-assisted applications. People have reported cursor glitches, printing errors, and crashes when quitting an application. The popular financial package Quicken 2007, which requires Rosetta to work on Intel Macs, appears to be a frequent victim. Also affected are programs like Microsoft Word 2004 and Excel 2004, and older software from Adobe, such as Acrobat Pro 7 and Photoshop CS2. Venerable email client Eudora is unable to print and crashes in some instances, and even Apple's own AppleWorks will not print if Security Update 2012-001 has been installed.
The problem appears to involve several files changed by Apple in its latest patch; thankfully, affected users can attempt to fix the issue by using a patch developed by a group of system administrators at a Nebraska high school. The installer, RosettaFix, attempts to locate all the files that affect Rosetta and replace them with their pre-Security Update 2012-001 counterparts. As the programmers note, this may not fix every application, but it may prove a decent stop-gap until Apple can address the issue.
Those who don't want to go down that path may also be able to fix the issue by reinstalling Snow Leopard and updating to 10.6.8 through Software Update; just be sure to avoid installing Security Update 2012-001.
Since Apple doesn't support Rosetta in Mac OS X Lion, Snow Leopard remains a critically important version of the operating system for those who require legacy software support. As Apple's philosophy seems to involve looking forward rather than back, those older system are more and more likely to experience compatibility issues in the future. Those users who are heavily dependent on legacy software might be wise to wait and see how updates shake about before updating any critical systems.