Can you believe it's almost Valentine's Day? And what better way to find that elusive gift for your significant other than helping to protect their beloved iPhone? In this week's roundup of new iPhone cases, we've even got a model specifically designed for the annual holiday of love.

Camalen: The Royal (iPhone 4 and 4S; $39) is a handcrafted leather pouch designed to protect your iPhone with style and luxury. A special "flag" tab at the back makes it easier to pull out your phone when you need it. The Royal is available in black, red, tea, or tan.

InCase: The Thermo (iPhone 4 and 4S; $35) is a pink case that changes color in response to changes in the temperature of its surface. Press your hand against the case, and the contours of your fingers will be neatly recorded—until, that is, the case's plastic cools down and you can start over.

MetalliCover: This company's collection of engraved metal backings (iPhone 4 and 4S; $26 to $90) is designed to bring an extra layer of protection and style to the "other face" of your iPhone, in the form of a stainless steel plate that goes right on top of the handset's glass backing. The twenty-one different motifs are each also available in a gold-plated format if you're willing to shell out an additional $60 or so.

Nuu: The company's ClickMate series consists of a generic "foundation case" that provides protection for your handset, along with a number of accessories that "click on" to it. These include the ClickMate PowerPlus (iPhone 4 and 4S; price unavailable), which incorporates a rechargeable battery capable of providing up to five hours of additional talk time on 3G networks, and the ClickMate Clip (iPhone 4 and 4S; price unavailable), which doubles as a belt clip. The ClickMate Wallet (iPhone 4 and 4S; price unavailable) rounds up the series with a clever case/wallet combination that can accommodate several credit cards.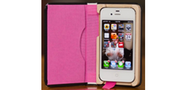 Pad & Quill: In honor of Valentine's Day, this maker of book-binding style cases for iPhones, iPads, MacBooks, and e-readers has announced a pink version of the company's Little Black Book for iPhone 4/4S ($45). Made from a precision-cut, Baltic-birch frame, the Little Black Book uses traditional book-binding processes to make a case that looks like, well, a book. Every model is black on the outside with a cloth lining in your choice of color. A pocket inside the front cover can store an ID or credit card. In addition to pink, the company has also announced a new plum (purple) model.

QMadix: The Metalix (iPhone 4 and 4S; $30) is a snap-on cover that's form-fitted to perfectly match your iPhone's body, ports, and buttons. The case's durable but lightweight polycarbonate borders are complemented by a brushed-aluminimum alloy backing, which is available in black, silver, red, blue, or purple.

Spicebox: The IntoxiCase (iPhone 4 and 4S; $25) combines a case with a bottle opener for those circumstances when you find yourself with a bottle of suds but no way to pop the cap. The IntoxiCase is also available in a "Plus" version (iPhone 4 and 4S; $35) for the more sophisticated drinker. (It features a bottle opener that folds inconspicuously out of view.) And, in case you're wondering how to keep track of all those beers you'll be drinking, the company has built a free app just for you.

SwitchEasy: The Lux (iPhone 4 and 4S; $30) is a hardshell, leather case that wraps neatly around your handset, protecting it from scratches and bumps without getting in the way. According to the company, the leather material used to make the case has the unique characteristic of sliding easy into your pocket while offering an excellent grip for your hand. The Lux is available in black, white, or tan.

USBFever: The TuneMax Energy Jacket (iPhone 4 and 4S; $63) is a 1,500 mAh battery/case combination that enhances the usage time of your iPhone while weighing in at a mere 55 grams. It comes with three interchangeable frames—black, red, and silver—to add a splash of color to your device.
iPhone 4S family
Price When Reviewed:
$599