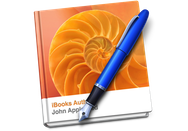 Apple on Friday rolled out a minor update to iBooks Author, its new tool for creating interactive ebooks. Though the 1.0.1 update weighs in at nearly 150MB, Apple says only that it "provides an updated version of the End User License Agreement." While that hefty piece of legalese helps clarify some of the agreement's contentious wording, it doesn't address all the complaints over its restrictions.
In the original release of the app, that EULA sparked some controversy, as it stated that output generated by iBooks Author could only be sold via Apple's iBookstore. With Friday's update, the company has now backed off from that position slightly, saying that only files with the .ibooks suffix are subject to the restriction. Since iBooks Author can also be used to create text or PDF versions of a work, the original incarnation of the EULA could have implied that documents in those formats would be subject to the same terms.
But the rule for .ibooks files remains the same: If you want to sell them, you must go through the iBookstore, which means that 30 percent of your book sales go into Apple's coffers. If you intend to give away your iBooks Author-created masterpiece, however, you can do that wherever you'd like. The updated EULA also makes clear that if you export text or PDF copies of your book from iBooks Author, you're clear to sell them or use them in any way you see fit.
The original terms of the iBooks Author license agreement were the subject of much dispute, with some suggesting that it signaled nefarious lock-in practices by Apple, and others arguing that the terms were not unreasonable, given that Apple had made the tool for producing these interactive ebooks freely available. In many ways, the contentions echoed previous criticisms of the company's iOS App Store, which has a similar restriction—albeit one enforced by technology rather than by licensing.
In contrast to Apple's App Store policies, the rule regarding where you can sell .ibooks books isn't one that the company can implement on a strictly technical level. There's no technological reason why you couldn't use iBooks Author to create an interactive ebook and start selling the title to iPad users from a store or website of your own choosing—it's just that doing so would be in direct violation of the EULA. Presumably, were your illicit ebook sales to come to Apple's attention, the company would urge you neither to pass Go, nor to collect $200.
It remains to be seen whether the change to the license agreement will appease those who found the initial version objectionable. The alteration certainly softens the blow by explicitly exempting those alternative formats, but the root issue—that interactive iBooks can be sold only on the iBookstore—hasn't changed.