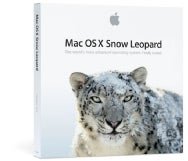 Suffering from bizarre errors related to the latest Snow Leopard security update? Apple's already on top of things. On Friday, the company released Security Update 2012-001, version 1.1, for Snow Leopard Macs.
In its usual fashion, Apple only says that the update is "recommended for all users and improves the security of Mac OS X." But if we had to place a wager, Vegas-style, we'd guess that the update in question has been issued to replace version 1.0 of Security Updated 2012-001, released on Wednesday, which had some nasty side effects.
Many users who applied the security update on their Snow Leopard found they could no longer use applications designed for PowerPC-based Macs, thanks to the fact that the update wreaked havoc on files crucial to Apple's Rosetta technology.
It seems likely that the update fixes that problem, although we haven't yet confirmed it for ourselves. If the update fixes issues for you, let us know in the comments below.
There's no sign, however, of an update to fix the issues with the latest Lion update, Mac OS X 10.7.3, which saw some users having problems launching applications or experiencing weird textures.
Security Update 2012-001 version 1.1 is available via Software Update, but as of this writing was not on Apple's support downloads site.