NBC is streaming Sunday's Super Bowl XLVI live to U.S. viewers, including those on Macs and iPads.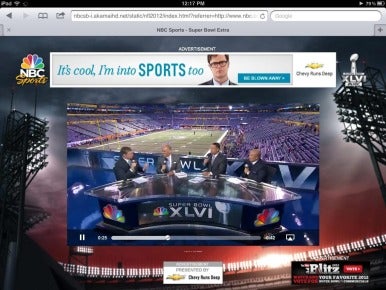 Mac users will see the video streaming via Microsoft's Silverlight plugin. iPad users will see the video play directly in their browser. Full-screen and AirPlay mode both appear to be supported.
To see the game, which kicks off at 6:30 p.m. Eastern, visit nflstream.nbcsports.com.
iPhone users who are Verizon Wireless customers can view the game via the NFL Mobile app. (Other iPhone users may be able to sneak in by a side door by using a third-party web browser app that can pose as an iPad rather than an iPhone.)