While reading ebooks on your iOS devices is fairly pleasant, thanks to Apple's iBooks app, the company has yet to release any such program for the Mac. To fill this void, Tidbits Publishing and Stairways Software have collaborated to create Bookle, a DRM-free ePub reader.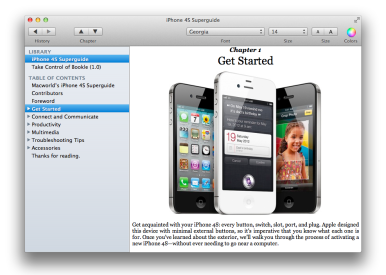 The app, which made its official debut Monday, offers a simple and straightforward ebook reading experience for all of your ePub files unencumbered by Digital Rights Management (DRM). This includes most free ePub files available around the web, including those from Project Gutenberg, Tidbits's Take Control Books, and Macworld's own line of Superguides. You may be able to open books downloaded from the iBookstore as well, depending on whether or not the publisher has decided to add DRM during the publishing process. (Our Macworld iBookstore content is always DRM-free.)
While the app only opens ePub files—to open a Kindle book, you'll need Amazon's free Kindle for Mac—it does so with aplomb. You can add multiple books to your Bookle library and browse each book's TOC through clicks or keyboard commands; actual books are laid out in scrollable form, like a website, with breaks for chapters and pages.
Each ebook's font size, font face, and background color can be manually adjusted and saved, so you can read your manuals in Helvetica, or your scripts in Courier. The app will also save your place in each respective book, so you can jump back and forth (and even look at two books simultaneously) without losing your place. Bookle supports OS X's built-in text-to-speech feature as well, allowing you to have any ePub read out loud.
Though the app doesn't yet support features like search or annotation, Tidbits publisher Adam Engst told Macworld that these features are certainly in the pipeline for future versions. Other suggestions for features are welcomed at Bookle's feedback page.
You can download Bookle from the Mac App Store for $10; it requires a Mac running OS X 10.6 or later.