Reader Robert Grenley has some discontinued technology that he hopes to use with his current gear. He writes:
I purchased Flip MinoHD cameras for each of my two daughters a few years ago. I wanted to continue to use them but now that they are no longer supported by Cisco, I assume that the software that saves the video to the Flip video website won't work. Is there a simple way to download and save the videos to our computers and, possibly, to burn them on to DVDs?
Fortunately, while the FlipShare software was convenient because a copy was found on every Flip camcorder, you were never required to use it. That said, the most recent version of the software works perfectly well under Mac OS X Lion. In fact, Cisco has said that it will continue to support this software until December 31, 2013.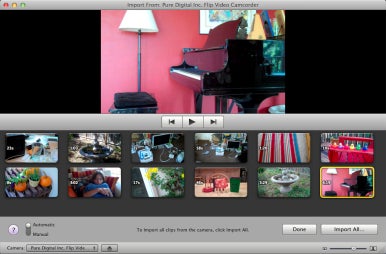 But again, you needn't use it. With the latest version of iMovie running under Lion, for example, I was able to jack in my Flip MinoHD camcorder, click the Camera Import button, and import all the videos on the camera into iMovie, ready to edit.
If you prefer the manual method, simply double-click on the FLIPVIDEO volume that appears on your Mac's desktop when you've attached the Flip to your Mac, open the DCIM folder and then the 100VIDEO folder within it, and drag the movies you find to your Mac's hard drive. These are MPEG-4 movies that you can use with any Mac-compatible video editing application. Once you've edited them to your satisfaction you can then import them into iDVD and burn your movies to disc.