As God is my witness, I thought the phrase was "waiting with baited breath."
Thanks to Phrase Wit—a snarky, funny, educational iPad and iPhone app from Ballpoint—I now know better. The correct phrase is "bated breath," with the the first word being a shortening of "abate." "You're holding your breath in tense anticipation of some outcome," the app advises. "If you're looking to attract fish, you might have baited breath."
Phrase Wit's job is to take commonly mangled phrases—"all for naught" is right, "all for not" is wrong—and teach users the correct version. It does this several ways: There's a list of the correct phrases and their mangled cousins; tap on any entry and you'll get an explanation. You can also spin a wheel on the touchscreen, so that random phrases will appear and peak… er, pique your interest.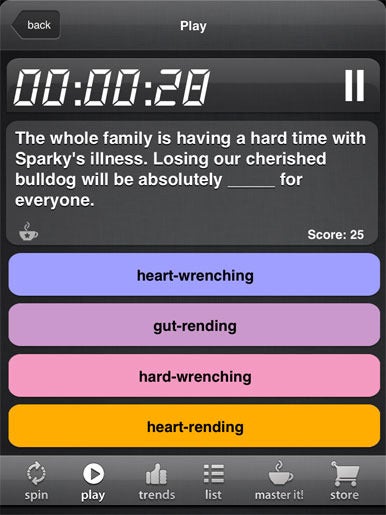 The app is most pleasing, though, in game mode: Phrase Wit offers you a series of fill-in-the-blank sentences, along with four phrases to choose. The goal is to correctly choose as many phrases as possible in 30 seconds. It's harder than it sounds, but very enjoyable.
One fault: The app gives you the option to share phrases via Facebook, Twitter, LinkedIn, or email. In both the iPhone and iPad versions, I could link up to my social networks—but I never could actually share information.
Overall, though, Phrase Wit is fun to use. English-as-a-Second-Language teachers might find the app useful, but so will anybody interested in writing a little smarter.
[Joel Mathis is a freelance journalist and political columnist for Scripps Howard News Service. He lives in Philadelphia.]