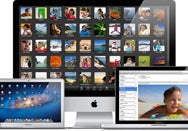 One of the not-so-glamourous but very useful features introduced with Lion (Mac OS X 10.7) was Lion Recovery, where the Lion installer creates a small, invisible, bootable partition on your hard drive that lets you repair your drive or even reinstall Lion if you have a problem.
But there's a special version of Lion Recovery called Internet Recovery that lets Macs with the appropriate firmware—originally, any Macs released mid-2011 or later—use those same Lion Recovery features by net-booting, over the Internet, from Apple's servers. Internet Recovery works even if the computer's hard drive is damaged or missing.
Internet Recovery is a handy feature to have. Fortunately, Apple has been extending it to some older Macs through a series of firmware updates. Last fall, early-2011 MacBook Pro and iMac models gained the feature, and mid-2010 13-inch MacBook Pro, MacBook, and Mac mini models were blessed with such firmware updates a few weeks ago. On Tuesday, Apple released EFI firmware updates for several other 2010 Mac models; each of these updates brings Internet Recovery to its respective Mac models:
The MacBook Air firmware update also "addresses an issue where the system could restart if the power button is pressed immediately after waking from deep sleep," according to an Apple support document.
Of course, since these updates involve Lion, you must have Lion installed on your Mac. Specifically, Apple states that the system requirement for the updates is Mac OS X 10.7.3 or later. As always, it's a good idea to back up your data before you run a firmware update.