While the number of iOS Twitter clients can occasionally seem overwhelming, Tapbots's Tweetbot stole the stage last year with its unique interface and gesture support. On Wednesday, the company expanded Tweetbot's reach by bringing it to the iPad, and updating Tweetbot for iPhone to version 2.0 at the same time.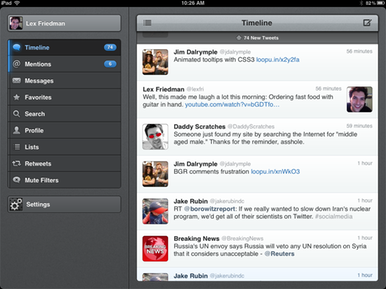 The all-new iPad app offers a similar look and feel to Tweetbot for iPhone, expanded for the device's bigger screen. Just like its iPhone counterpart, Tweetbot for iPad supports multiple accounts, smart gestures, push notifications, and third-party services like Instapaper, Tweet Marker, and Instagram. You can also customize your navigation tabs, mute users and hashtags from within the app, and tap on links without first selecting tweets.
The updated Tweetbot for iPhone receives a facelift with version 2.0, inheriting several improvements from the newly-launched iPad incarnation: The app's timeline now sports inline image thumbnails, single-tap links, and an interactive Retweeted By bar; the panes for direct messages and replies have also been retooled. In addition, Tapbots added support for Readability and similar services, along with options for auto-refresh and a Huge font size.
Tweetbot for iPad is available from the App Store for $3; the 2.0 update of Tweetbot for iPhone is free for current users, $3 for new users.