Many people switching from Windows PCs to the Mac worry that they must leave the Windows world—and the files they've created in it—completely behind. And for those who need to run application not found on the Mac or who just can't bear doing without a favorite Windows-only game or two, this is a legitimate concern. Thankfully, you can have the best of both worlds as today's Macs can run Windows natively using Apple's Boot Camp technology. This technology creates a separate partition on your Intel Mac's hard drive where you can then install a copy of Microsoft Windows. In order to use Boot Camp, you must restart your Mac from this partition. When you do, Windows runs almost exactly as it would on a PC.
Of course, Boot Camp isn't the only way to run Windows on your Mac. Using applications such as Parallels Desktop ( ) and VMware Fusion ( ) you can run the Mac OS and Windows side-by-side. But Boot Camp is free and offers better performance than these virtualization applications.
Follow along to learn how to set up Boot Camp. You'll need an Intel Mac, a licensed copy of Windows 7, and either a blank CD or an external drive such as a USB flash drive.
Step 1: Check your software and hardware
Boot Camp works only with Intel Macs. If you have a Mac with a PowerPC processor, you're out of luck. Under Lion, Boot Camp supports Windows 7 only. If you're unsure which kind of processor your Mac has and the operating system it's running, choose About This Mac from the Apple menu. The processor entry should include the word "Intel" and the OS version should be 10.7 or higher.
If you wish to run the 32-bit version of Windows 7 you'll need at least 16GB of free storage space. To install the 64-bit version of Windows 7 you need at least 20GB of free storage on that startup drive. You must also have a Windows installer disc or disc image as well as the serial number to go with it.
Step 2: Back up your data
Because Boot Camp creates a partition—and could possibly move some of your data in the process—it's a good idea to have a complete backup of your startup drive. Should something go wrong, you don't risk losing any of your data. If you don't currently have another backup strategy in place, take a look at Time Machine, which is bundled with OS X.
Step 3: Launch Boot Camp Assistant
Boot Camp Assistant is bundled with the Mac OS and can be found in the Utilities folder within the Applications folder at the root level of your hard drive (/Applications/Utilities). After you launch it, the first screen you see is labeled Introduction. This screen provides an overview of Boot Camp. If you're using a laptop powered only by the battery, heed the warning to attach a power supply. Click Continue at the bottom of the window.
Step 4: Download Windows support files
In the resulting Select Tasks window you have a few options—Download the Latest Windows Support Software From Apple and Install Windows 7. (You may also see a Create a Windows 7 Install Disk option. This is enabled for those Macs that lack a media drive such as the MacBook Air and latest Mac mini. If you have such a Mac enable this option, click Continue, and follow the instructions for creating the install disk.) For Windows to operate properly on your Mac you need this support software, so select that option and click Continue.
In the resulting screen you'll be presented with two more options—Burn A Copy To CD Or DVD and Save A Copy To An External Drive. Select Burn A Copy To CD Or DVD and click continue and the Windows support software will be downloaded to your Mac. You'll then be prompted to insert a writeable CD or DVD disc. Insert the disc and click any OK buttons necessary to more the process along. The support software will be burned to that disc. You'll install it under Windows to add the drivers necessary for your Mac to work properly when running as a PC.
If you have a Mac that lacks a media drive choose the second option. Do that and you must format that external drive as a MS-DOS (FAT) volume, which you can do within Disk Utility by attaching the drive to your Mac, selecting it in Disk Utility's drive pane, clicking on the Erase tab, choosing MS-DOS (FAT) from the Format pop-up menu, and clicking the Erase button. This drive needn't be a hard drive. You can just as easily use a 1GB-or-larger USB stick.
At the end of this process you'll be advised to install the Windows support software after you've installed Windows. Click Quit at the bottom of the window and then relaunch Boot Camp Assistant.
Step 5: Partition your disk
You must now relaunch Boot Camp Assistant. After clicking Continue you'll see the same three options. If you have a Mac without a media drive and have a version of Windows saved as an ISO image, select the Create a Windows 7 Install Disk. You'll be walked through the process of creating a Windows installer on a USB stick.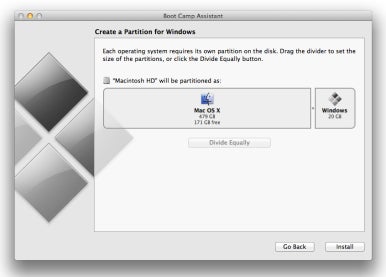 If you have a Mac with a media drive choose to install Windows 7. When you click Continue you'll see a screen that, by default, creates a partition of 20GB. If you need more storage space than the default 20GB partition, drag the Windows partition to the left to increase its size. It can be made as large as all but 8GB of the drive's remaining free space. If the amount of free space on the drive is greater than the amount of space currently used by your Mac—say, the files on the Mac currently account for 200GB on a 500GB drive—you can click a Divide Equally button to create partitions of roughly equal size.
When you're ready to proceed, insert your Windows installer disc and click the Install button at the bottom of the window. When your Mac recognizes the disc, it will begin the partitioning process.
Step 6: Install Windows
When Boot Camp Assistant finishes partitioning your drive it shuts down any running application and reboots your Mac into the Windows installer. After agreeing to the license agreement, agree to install Windows. Soon, you'll be asked to choose between an Upgrade or Custom installation. Choose Custom. In the window that appears choose the boot camp partition, which is clearly labeled. If this is the first time you've installed Boot Camp there's a good chance that you'll see a message that reads "Windows cannot be installed to Disk X Partition Y." The reason is that the partition isn't formatted properly.
Select the Boot Camp partition, click on the Drive Options (Advanced) entry, and click Format. A window will appear that warns you that formatting the partition might be a bad thing. It's not, so click OK.
Once Windows has formatted the drive you can continue the installation by clicking on the Next button. The Windows installation will proceed, restarting your Mac a time or two.
Step 7: Configure Windows
When Windows finishes installing you'll see the screen where you enter a user name. Do that and you'll be walked through the setup process where you choose the time zone, protection settings for your "PC," and your local network.
Step 8: Run Windows Support software
When you finally boot into Windows you'll find that the screen resolution is ungainly and Windows doesn't run as it should. This is because Windows doesn't yet have the drivers necessary for it to operate properly on your Mac. You install those drivers by inserting the disc or drive that contains the Windows Support Software and double-clicking on the Setup application within the WindowsSupport folder on that disc or drive. Do this and the software installs the necessary drivers.
Once the installation has finished you're prompted to restart the Mac. When the Mac restarts and boots into Windows, a Boot Camp help window appears. Close this window if you don't care to read Boot Camp's help files.
Step 9: Treat it like the real thing
Your Mac running under Boot Camp is a living, breathing Windows PC. As such you need to take the same precautions as other Windows users. You should absolutely use antivirus software. Additionally, be sure to install Windows updates when prompted. These updates often contain fixes for Windows' security holes thus installing updates can help keep your PC protected. Note that viruses and malware that strike your PC can't infect the Mac OS—they won't leap between your Boot Camp and Windows partition.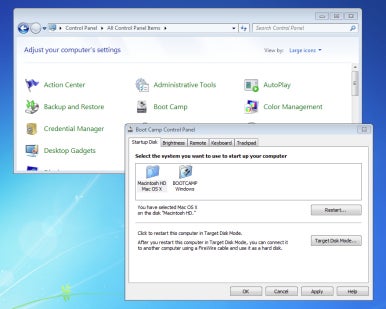 Step 10: Back to the Mac OS
When you're ready to boot back into the Mac OS, click on Windows' Start menu, choose Control Panels, click the triangle next to the Control Panels entry in the path field, and choose All Control Panels. From the list of control panels that appears, click on Boot Camp. In the Startup Disk tab you'll see any bootable volumes available to you, including your Mac's normal startup drive. Select it and click Restart. In next to no time you'll be back to the comfortable confines of the Mac OS.