Sony's new CEO says the company needs to move on from its hardware roots.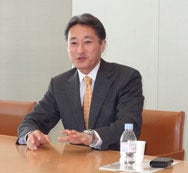 From its inception, the company has defined itself through its brightly named gadget lines—Walkman, Vaio, Cyber-shot, PlayStation—but incoming CEO Kazuo Hirai says Sony must now focus more on the software and platforms they access. Hirai, who will officially lead the company from April, spoke to reporters Thursday at Sony headquarters in central Tokyo.
"Everybody talks about 'Sony-like, Sony-esque' products, which is fine, and that's very important, but more important than that is for me to evolve the company," he said. "We can turn this company, that traditionally was a purveyor of hardware, into something bigger than that."
Hirai, who first joined Sony in 1984, said physical products are just one part of the users experience, which is equally dependent on software, content and network connectivity. He said he wants to model the company after its successful PlayStation gaming business, which he helped turn around, where "hardware drives software, and software drives hardware, and it's all tied in by the network."
The executive will take over from current CEO Howard Stringer as the company faces nearly $3 billion in losses in the current fiscal year, with its core consumer product division deeply in the red due in large part to its struggling TV business. Hirai has repeatedly said he will not abandon televisions, but has slashed sales targets and moved to outsource production of key components in an effort to turn the business around in the next two years.
Sony is looking to leverage its large in-house video game, movie and music holdings through efforts like its Sony Entertainment Network and PlayStation Certified program, which aim to make the content available on its myriad of devices. The company's entertainment holdings are a rare asset among electronics companies, though rivals like Apple and Amazon long ago negotiated to sell impressive libraries of their own.
Despite the new focus, he said the company would continue to put effort into compelling new gadgetry, and has some potential hit products in the works.
"We have stuff in the pipeline," he said. "But I'm not going to share."