[Editor's note: This article is part of our series of articles on installing and upgrading to Lion (OS X 10.7). We also have a complete guide to installing and upgrading to Mountain Lion (OS X 10.8).]
One of the premier troubleshooting features of Lion (Mac OS X 10.7) is Lion Recovery. If you ever have system or drive issues, Lion Recovery lets you boot your Mac into a special recovery mode to check or repair your hard drive, browse the Web for troubleshooting help, restore your drive from a backup, or even reinstall Lion itself. (See our hands-on with Lion Recovery for all the details.)
It's a convenient feature that, in theory, means you no longer have to carry a Mac OS X Install disc or a bootable external hard drive. But as I explained when Lion debuted, there are still good reasons to have a bootable installer disc or drive. For example, if you want to install Lion on multiple Macs, a bootable installer drive can be more convenient than downloading or copying the entire Lion installer to each computer.
But even for troubleshooting, a bootable installer drive has advantages over Lion Recovery. For starters, Lion Recovery doesn't include the full Lion installer—it requires you to download nearly 4GB of data before you can reinstall Lion—whereas a bootable installer drive contains the entire Lion installer, making installation much, much faster. And if you've got a Mac that doesn't support Lion Internet Recovery—a version of Lion Recovery based on special firmware—recovery mode may not even be available if your Mac's drive itself is having problems, whereas a bootable install drive will always be there for you. (Lion Internet Recovery is available on mid-2011-or-later Macs, as well as some older Macs that have received recent firmware updates.)
The problem for newer Macs
When Lion debuted, I explained how to create a bootable Lion-installer drive from the Mac App Store version of Lion. But if you have a Mac that debuted after Lion (any Mac from July 2011 or later), your Mac shipped with Lion pre-installed. In other words, you don't have a downloadable version of the installer unless you happened to purchase Lion for another, older Mac. Apple does offer a utility for creating an emergency Lion Recovery drive but, like the standard Lion Recovery feature, this drive requires you to download the full 4GB of Lion each time you want to install—it's better to have the full installer on a bootable drive. (In our testing, the official OS X Lion USB Thumb Drive doesn't work with Macs that shipped with Lion—it's designed for installing the OS on pre-Lion Macs.)
The solution
Fortunately, it's possible to create a bootable Lion installer even if your only Mac is a newer model, although doing so requires a bit more work.
Note: If you purchased Lion for another Mac, so you have a version of the Lion installer from the Mac App Store, you can use our original instructions for creating a bootable Lion-installer drive. As long as your downloaded installer is version 1.0.13 or later—select the installer in the Finder and use the Get Info command to check—there's no need to perform the procedure below. Those simpler instructions will create a drive that works with all current Lion-compatible Macs. (You can also copy the Mac App Store version of the installer to your newer Mac, or download it—all 4GB of it—from the Mac App Store directly to that newer Mac, and then run the installer. But because these may not be options if your Mac is having problems, it's still good to have a bootable installer drive.)
When you use Lion Internet Recovery to reinstall Lion, your Mac contacts Apple's servers, identifies itself, and requests the appropriate Lion-install data. Apple's servers verify the Mac model and then, assuming it's a Mac compatible with Lion Internet Recovery, provide the roughly 4GB of data for download. Once that data has been downloaded, Lion Recovery restarts your Mac, immediately installs the OS, and then deletes the installer data. The trick is to interrupt that process—safely—so you can grab the installer data and keep it. Here are the steps to take: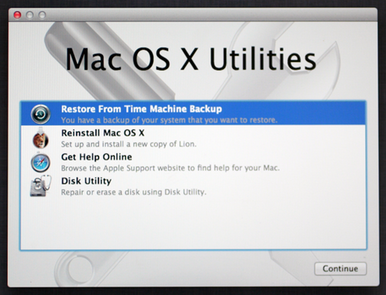 Boot into recovery mode by holding down Command+R at startup; you'll eventually see a Mac OS X Utilities window. (If this doesn't work, restart and hold down Command+Option+R, which should force your Mac into Lion Internet Recovery.)

Connect a drive—a hard drive, a thumb drive, or the like—with at least 12GB of free space. The drive must be formatted as Mac OS Extended (Journaled), and must have a GUID Partition Table. Follow Steps 1 through 4 in this slideshow to properly format the drive.

In the Mac OS X Utilities window, click Reinstall Mac OS X and click Continue.

On the Mac OS X Lion screen, click Continue. You'll see the message, "To download and restore Mac OS X, your computer's eligibility will be verified with Apple." Click Continue, then click Agree (twice) on the next screen to agree to the Lion license agreement.

Select the drive onto which you want to install Lion. The important thing here is to select your external drive.

Click Install to begin the download. Depending on your Internet connection, the download can take anywhere from under an hour to several hours (or even, if you're unfortunate enough to be on a very slow connection, considerably longer).

IMPORTANT: Monitor the download's progress. As the progress bar gets near the end, get ready, because once the status reads About 0 seconds remaining, the progress bar will disappear, the installer will spend a minute or two cleaning up, and then your Mac will restart. As soon as the screen goes dark, unplug your external drive. If you wait too long, your Mac will boot into the Mac OS X installer on that drive, starting the installation process. Interrupting that process can leave your Mac unable to install OS X unless you restart it and—I'm not joking— zap PRAM.

Once your Mac has booted from its normal startup volume, reconnect the external drive. Alternatively, you can connect the drive to another Mac and proceed with the following steps using that Mac.

Open the external drive, and you'll find a folder called Mac OS X Install Data. The important file is the one called InstallESD.dmg, just under 4GB in size, which is a bootable disk image containing the Lion installer. (If the Mac OS X Install Data folder has a "no access" icon, select the external drive in the Finder, choose File -> Get Info, and expand the Sharing & Permissions folder in the Info window. Click the padlock icon at the bottom of the window, provide an admin-level username and password, and then uncheck the box next to Ignore Ownership On This Volume.)

If you plan to use the same hard drive for your bootable installer drive that you used to download the installer, you'll need to copy the InstallESD.dmg disk image to your Mac's internal drive, or another drive, before proceeding. Use that copy in Step 12, below.

Launch Disk Utility (in /Applications/Utilities).

Drag the InstallESD.dmg disk image into Disk Utility's left-hand sidebar.
Now you've got the latest Lion-installer disk image, and you're ready to use that image to create a bootable installer drive or disc. As a bonus, the resulting Lion-installer drive should boot and support any current Lion-capable Mac. However, be aware that when Apple releases new Mac models, those models will come pre-installed with a newer version of Lion, so your installer drive won't work with them. (At some point, Apple will update the Lion installer on the Mac App Store to support those newer Macs, so you can then download the updated installer and make an updated installer drive that supports even those Macs. And so on…)
The next steps depend on whether you want to create a bootable hard drive or flash drive, or a bootable DVD. I recommend a hard drive or flash drive; a DVD will work, but it will take a long time to boot and install. And, of course, depending on your particular Mac model—I'm looking at you, MacBook Air and recent Mac mini—you may not have an optical drive.
To create a bootable hard drive or flash drive
In Disk Utility, select InstallESD.dmg in the sidebar, and then click the Open button in the toolbar. This mounts the disk image's volume in the Finder. The mounted volume is called Mac OS X Install ESD.
Click Mac OS X Install ESD in Disk Utility's sidebar, then click the Restore button in the main part of the window.
Drag the Mac OS X Install ESD icon into the Source field on the right (if it isn't already there).
Connect to your Mac the hard drive or flash drive you want to use for your bootable Lion installer. This drive must be at least 5GB in size (an 8GB flash drive works well), and it must be formatted with a GUID Partition Table.
In Disk Utility, find this destination drive in the sidebar and then drag it into the Destination field on the right; if the destination drive has multiple partitions, just drag the partition you want to use as your bootable installer volume. Warning: The next step will erase the destination drive or partition, so make sure it doesn't contain any valuable data.
Click Restore and, if prompted, enter an admin-level username and password. The restore procedure will take anywhere from five to 15 minutes, depending on your Mac and the speed of your drive.
Note: In versions of the Lion installer prior to 10.7.4, you didn't need to first mount the InstallESD.dmg image—you could simply drag the image itself into the Source field. However, with the 10.7.4 installer, you must use the mounted Mac OS X Install ESD volume or you will get an error at the end of the restore procedure and the newly created bootable drive may not function properly.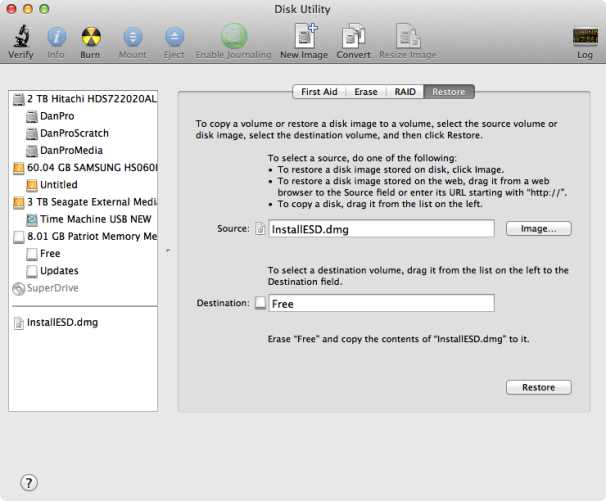 To create a bootable DVD
In Disk Utility, select InstallESD.dmg in the sidebar

Click the Burn button in the toolbar.

When prompted, insert a blank DVD (a single-layer disc should work, although you can use a dual-layer disc instead), choose your burn options, and click Burn.
You can now boot any Lion-compatible Mac from this drive or DVD and install Lion. You can also use any of the Lion installer's special recovery and restore features—in fact, when you boot from this drive or DVD, you'll see the same Mac OS X Utilities screen you get when you boot into Lion Recovery.
(Thanks to reader Jameel Morrison for confirming this procedure and for prodding me to finally write this article.)
UPDATED 2/13/2012, 9:29am, to make it even more clear that this article is aimed at owners of Macs that shipped after Lion.
UPDATED 2/14/2012, 9:40an, to correct the size of the drive onto which you want to download the Lion installer.
Updated 6/27/2012, 9pm, to add note about Disk Utility error message introduced with the 10.7.4 installer, and 6/29/2012, 8:20am, to correct instructions when creating a drive using the 10.7.4 installer.