Nostalgiqa is a baffling social media app that, in theory, enables you to capture your memories and share them (or compile them privately, if you wish) with other users of the app. According to developer HumanSpot, after you save your photos and text in the cloud-based app, "you can access your up-to-date memories on any device you own without any need for synchronization."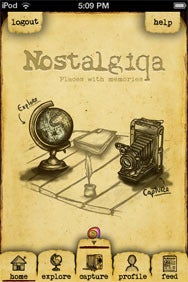 While it is true that you can access your account—and all the photos and text you've entered using Nostalgiqa—from any iOS device without any extra steps required for syincing, there is no apparent way to access your account from your Mac or PC—or any non-iOS device for that matter. I also couldn't find an obvious way to delete a Nostalgiqa account, though I could make memories private and delete material. Contrast that with the photo-sharing app Instagram, which similarly does not provide Web access to photos but automatically saves images to your photo roll on your iPhone; Instagram's help section also provides a link to a Web page where you can delete your account.
Another mystery is the nature of Nostalgiqa's social aspect. You can make your memories "public," meaning that others using the app can view photos and read material you've posted. This is as far as it goes, though—Nostalgiqa does not provide any capability for "friending" or following other users, and the search function only allows you to search by time, location, or "Emotiqa" (emotions that are associated with memories). Unlike Instagram, which, when you sign up, helps you find friends via your contact list, Facebook account, Twitter, and via searches, Nostalgiqa does not provide similar capabilities. It does provide the ability to share with friends via Facebook and Twitter.
Using Nostalgiqa is also more difficult than necessary and takes some time to get the hang of. This is because there is an imposed structure (which I found more likely to inhibit my nostalgic musings than to encourage them). The structure is that a "Memory" is made up of one or more "Fragments." Therefore, each fragment must have a parent memory. This adds what seems to be a needless complication— often found myself recalling a moment in the past (a fragment) and not much else. But if you're in for a fragment, you're in for a memory, and I found that often something I wanted to spend a minute or two recording demanded additional time—not to mention confusion as Nostalgiqa's interface is far from intuitive. Thus, I wound up spending more time in the app, because I had to create a parent memory for the fragment.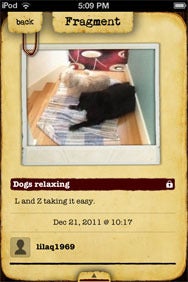 Nostalgiqa provides two methods for incorporating a photo fragment: by taking it immediately using your iPhone's camera or by importing a photo from your camera roll or photo stream. There were several times when I wished I could easily incorporate a photo from the Web—for example, I have fond memories of visiting the Pompidou Museum in Paris, but that was long before digital photography, and while I have some photos I took myself somewhere, there are Creative Commons photos (on Wikipedia, for example) that would serve just as well to illustrate my recollections. Providing a mechanism for searching the Web for such images would be a welcome addition.
You can also give photos a title and description, and write text fragments, which is a simple process. You provide the location for fragments by either dragging a placemarker, which is difficult to do with accuracy, or by typing in a place name ("Times Square," "Mount Everest," and so on) or address. You can use the iPhone's built-in location services, but this feature is not obvious—only by going to the app's help page on the Web did I discover this capability, which you turn on or off via your iPhone's Settings panel.
Despite my criticisms of the app, the idea behind Nostalgiqa is a compelling one, and the app does what it does well. The biggest problem is simply that Nostalgiqa doesn't do enough. Also, its interface either needs to be revamped or supplemented with built-in explanations. In other words, Nostalgiqa is off to a good start, but it has a long way to go, especially considering the significant competition in social media.
[Jeff Merron is a freelance writer and editor living in North Carolina.]