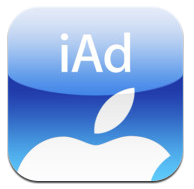 Apple is revamping its iAd mobile advertising service, slashing fees for advertisers and increasing the commissions it pays app developers who opt into the network.
As Advertising Age first reported on Tuesday, marketers now need to spend a minimum of $100,000 for a mobile campaign to get into the program, down from a $1 million minimum when iAd launched in 2010. And mobile developers will get a commission of 70 percent of the ad dollars earned on their apps, up from 60 percent.
Apple on Wednesday confirmed the iAd pricing changes for advertisers; the company announced the revised commissions on its News and Announcements for Apple Developers page, where it wrote (in part):
Now we're making [iAd] even better, raising your revenue share to 70 percent. The new revenue share goes into effect automatically on April 1 for all developers in the iAd Network.
The development comes just two months after Apple dropped the campaign fee down to $400,000, and a month after the company hired Adobe's Todd Teresi to run the ad network.
Adam Schlachter, a managing parter with MEC Global—which buys advertising time and space across a host of platforms—welcomed the development, saying it will open up advertising opportunities on iOS.
"I think the change in pricing has made it a lot more accessible to advertisers. When they started it was a bit more closed and loftier. It's made it possible for more brands with lower budgets to get involved," he said. "I think it's great."
Schlachter added: "Certainly the premiums they were asking…made it a little less attractive and attainable for lots of clients." By cutting fees, Apple "listened, not just to us, but to the marketplace."
There is still some skepticism, however. On Wednesday, industry analysts said iAd still has room to grow—it is, after all, in second place behind Google with 6.4 percent of the mobile ad market—but probably will never enjoy the same success against its competition as Apple's mobile hardware.
"I wouldn't call it a failure yet," said Aapo Markkanen, a mobile industry analyst at ABI Research, a tech market research firm, in an interview. "It's more of a disappointment."
The biggest hurdle? Apple's iAd network lets advertisers sell their wares only to people using the iPhone, iPad, or iPod touch. That may not sound like much of a limitation, given Apple's domination of the phone and tablet markets. But analysts say iAd's lack of access to the Android platform is a real problem for many advertisers.
"As long as iAd is not cross-platform—and it will never be—it'll never be able to compete with Google/ AdMob and Millennial Media," said Karsten Weide, the head of consumer research for IDC, an information technology research company, in an email to Macworld. [IDC and Macworld share the same parent company, IDG.]
Noah Elkman, the principal analyst for eMarketer—a company that analyzes digital marketing and media—agreed. "I think the challenge is that it's still a single-platform solution," he said. "Marketers want a broad reach into mobile, there are other ad networks that offer that."
Another challenge: The public has grown used to Apple hitting home runs in most of the markets it enters. That can create outsized expectations, particularly when the advertising market is outside the familiar consumer hardware sector.
"Whatever sector Apple enters, the expectations are that it will be a huge success," Elkman said, adding, "I think advertising for Apple is a somewhat anomalous part of its business."
Markkanen said Apple hurt itself with iAd's original terms for marketers and app developers. But it's not, he said, too late for a turnaround.