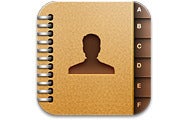 Apple on Wednesday announced that an upcoming iOS upgrade will require that apps receive your permission before accessing the contents of your address book.
An Apple spokesperson told Macworld via email: "Apps that collect or transmit a user's contact data without their prior permission are in violation of our guidelines. We're working to make this even better for our customers, and as we have done with location services, any app wishing to access contact data will require explicit user approval in a future software release."
The address book privacy issue came to the forefront recently when social networking app Path was found to be uploading the entire contents of users iPhone address books to the company's servers—without permission. Path has since released an updated version of its app that does seek permission before digging into your contacts, but it's an entirely self-policed solution. And Path was far from the only app to upload address book data, and many do so without encrypting that data, either.
Now, as it does before any app can access your current location, Apple will introduce an iOS-level interstitial requiring your approval.
Apple's declaration about the forthcoming iOS change may help assuage the concerns Congressman Henry A. Waxman (D-California) and Congressman G. K. Butterfield (D-North Carolina). The representatives on Wednesday demanded answers from Apple on what they termed "iPhone Address Book privacy concerns."
Indeed, in their letter addressed to Apple CEO Tim Cook, the Congressmen write: "You have built into your devices the ability to turn off in one place the transmission of location information entirely or on an app-by-app basis. Please explain why you have not done the same for address book information."
Once Apple's iOS update goes live, at least, that answer should become a bit easier.