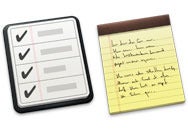 Two of the new iOS-flavored apps to move to the Mac with the release of Mountain Lion this summer are Notes and Reminders. Here's a sneak peek at how they work.
Notes
As in its iOS incarnation, the Notes interface on the Mac is dominated by a yellow text-entry area that resembles a legal pad. There's even a hint of torn paper at the top of the window, and yes, the app's title bar offers a leather texture. The top right corner displays the date on which the note was last modified.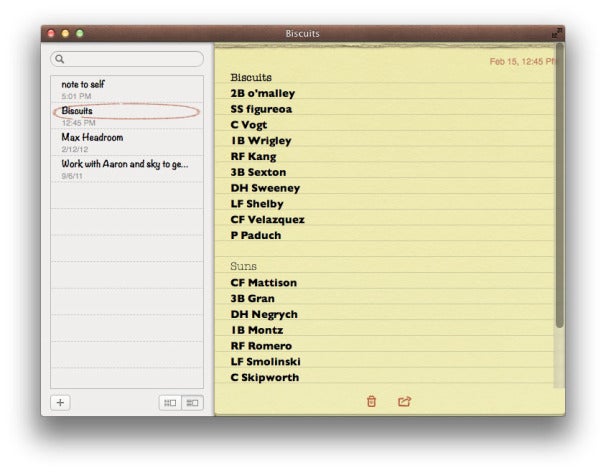 At the bottom of the text-entry area, there are just two buttons. A Trash icon deletes your note; the Share icon brings up one of Mountain Lion's new Share Sheets, offering to attach your note to an email message or an iMessage.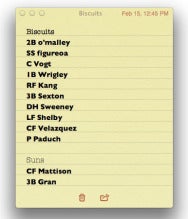 The Mac version of Notes does let you get a bit more fancy with text. Notes for Mac supports rich text, so you can choose different fonts, change text alignment, insert photos and attachments, create bulleted lists, and even drag in URLs to create hyperlinks.
The left side of the Notes app features a list of current notes as well as a search box. Apple says you'll be able to organize notes by storing them in folders.
If you're the type of person who liked to use the Stickies app to leave notes visible on your screen, Notes can do that too. If you double-click on a note in the list, it'll open in its own window.
Just like Notes on iOS and Notes in OS X's Mail app, the Notes app seems to store its notes on an IMAP email server, in a Notes folder. So simply logging in via iCloud won't turn on syncing of notes across all your devices—the Notes app really wants you to create a me.com email address (or use an existing one) in order to make it work.
Reminders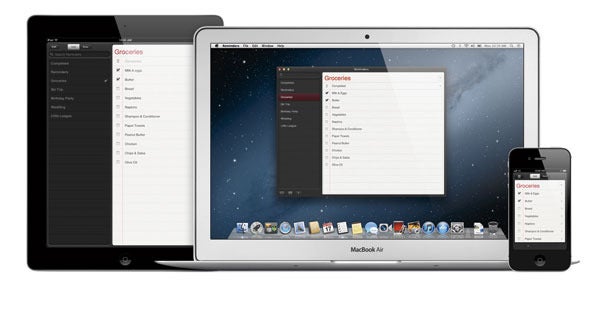 Reminders is an even more basic app than Notes. There's a reminder window full of tasks you can add and check off. A collapse/expand button at the bottom left corner lets you toggle a sidebar that lets you navigate between lists and search. When the sidebar's not visible, you can navigate between lists via a two-finger swipe on the Trackpad or by clicking on the tiny dots at the bottom of the Reminders window. Items sync via iCloud with the Reminders app on devices running iOS 5.
While very similar to the iOS version of Reminders, Mountain Lion's take on the app is missing some of the features of its mobile counterpart. As you might imagine, the ability to set location-based reminders—crucial to a mobile app, but not so useful for one that's running on a desktop—is not included in Mountain Lion's Reminders.
[Jason Snell is Macworld's editorial director.]