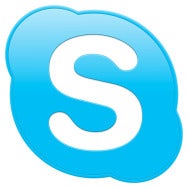 Microsoft will aggressively and broadly integrate Skype across its product portfolio, the company's CFO said on Wednesday, the same day that rival Cisco Systems raised concerns about Microsoft's Skype integration plans.
Microsoft CFO Peter Klein, speaking at a conference, portrayed Skype—the ultra-popular IM, presence, video chat and IP telephony service—as a product that Microsoft will use to unify and extend both its consumer and enterprise portfolios.
"When you think about Skype and when you think about trying to deliver a compelling set of experiences across devices, the most fundamental experience across devices is communications," he said at the Goldman Sachs Technology & Internet Conference, which was webcast.
"Skype extends that across all of our assets, whether it's with Lync in the enterprise, or with Xbox Live. It's something that really ties together all of our devices, a scenario that's as universal as any," said Klein, who answered questions from a financial analyst and from audience members.
Earlier Wednesday, Cisco announced its intention to appeal the European Commission's approval of Microsoft's $8.5 billion Skype acquisition. Cisco wants the EC to require that Microsoft and Skype support standards for interoperability with other collaboration platforms.
Cisco is specifically concerned about how Microsoft intends to tie Skype and Lync, an enterprise product that provides IM, presence, video conferencing, IP telephony and online meetings.
Microsoft has said in the past that it intends to create a bridge between the two products, so that Lync users can communicate with Skype users, including business partners and customers.
When Microsoft announced its Skype acquisition last May, CEO Steve Ballmer pledged to continue support for "non-Microsoft devices."
In a blog post Wednesday, Cisco said it plans to appeal the EC's decision at the General Court of the European Union and ask that conditions be imposed on Microsoft.
Cisco wants Microsoft and Skype to support the open standards that other videoconferencing vendors support, because otherwise competition and innovation could be harmed.
In a statement, Microsoft said: "The European Commission conducted a thorough investigation of the acquisition, in which Cisco actively participated, and approved the deal in a 36-page decision without any conditions. We're confident the Commission's decision will stand up on appeal."
At the Goldman Sachs event, Klein also said Skype plays a key role in Microsoft's strategy for cloud services. "If you think about how the world is evolving and our approach to it, we think about it in terms of devices and services, and certainly a lot of the services are cloud services," he said.
"What's really exciting about Skype is that it's a really compelling and popular service people around the world use and are very engaged with. If you think about our approach to developing and delivering a set of really compelling experiences and services across a range of devices, Skype absolutely accelerates what we're doing there," Klein said.
Stephen Lawson of IDG News Service in San Francisco contributed to this report.