Messages is now ready for Mac users to test drive. Shortly after announcing its planned Mountain Lion update for OS X on Thursday, Apple released a beta of the revamped version of iChat that will ship with the new operating system this summer.
You can download the Messages beta directly from Apple.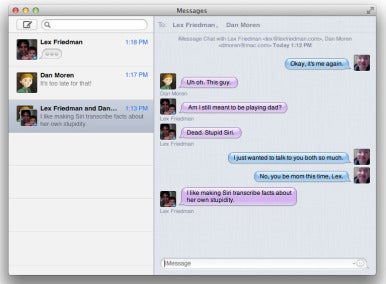 Messages draws its new moniker—and much of its functionality—from the identically named app in iOS. It will replace iChat in Mountain Lion, incorporating all the instant messaging features of the mobile app including the ability to communicate with folks using iMessage. iMessage conversations sync automatically between iOS devices and the Messages app on the Mac.
Our own Jason Snell spent several days using Messages already, and has a full hands-on.
The Messages beta requires Mac OS X Lion 10.7.3. When the Messages beta finishes installing, you'll need to restart your Mac.