This week's roundup of new and updated apps has a little something for everyone. Like music? Games? Photography? Read on.
We've already told you about upgrades to the Google+ app—it now comes with instant photo uploads, a feature that was previously available only to Android users. (Boo!) And Macworld's Dan Moren gave us a tour of Clear, a new (and simple) to-do app for the iPhone. Other app developments this week: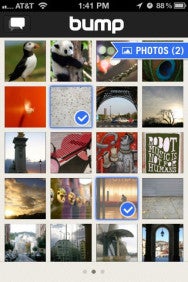 Bump: Most developers tout their app's new features when they launch an upgrade. Bump's developers are doing something different— telling the world about the stuff they've taken out. Version 3.0 of this app no longer gives users the ability to share calendar, music, or app information by "bumping" phones with another Bump user. Those options have been stripped out in an attempt to make the app "simpler, faster, and more useful." So what's new? Well, users can now discover mutual Bump-using friends when they connect their iPhones to exchange contact information, a feature developers say was buried in previous versions of the app. Bump also contains a new swipable user interface, letting users toggle between features instead of being inundated with a single page full of choices.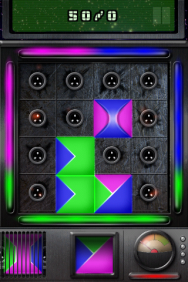 Color Conquest: This $1 offering from Germany's United Soft Media is a bit of a brain-buster. Basically, you're challenged to create the largest-possible contiguous color grids on a quadrangle using 16 squares and 16 multicolored tiles—if you've created a grid that features five connected blue tiles, for example, you can increase your score by piecing together six connected green tiles on the next go-round. (Thanks to Apple's Game Center, you're not just competing against yourself, but players around the world.) The trick? The game only lets you see the next tile to be played, meaning you rely on a combination of strategy and luck. The pairing is tough but addicting.
Instagram: We probably don't need to introduce you to Instagram—it's one of the most popular iPhone photography apps around. The good news is that the developers at Burbn Inc. aren't resting on their laurels: Version 2.1 has launched with several new improvements. Among them: A new tool, Lux, that automatically corrects the light exposure on photos to bring out details in the shot, as well as a new filter named Sierra. The app also comes with changes to the user interface and upgraded integration with the iOS Notification Center—tap on the Instagram notification and you'll be taken directly to the relevant photo within the app.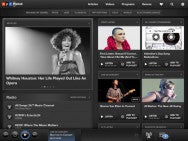 NPR Music: NPR Music has long provided its collection of content—live concerts, "first listens" of new albums, podcasts, and music articles—in an iPhone app. Now that app has been upgraded to a universal offering, optimized for both the iPhone and the iPad. That's great for music-loving tablet users, but the app also offers some cool new features—most prominently, the ability to create a playlist for offline listening, so you don't always have to be in range of 3G or Wi-Fi in order to experience the music. The free offering is also AirPlay-enabled, letting users wirelessly tap into their home stereo systems and play the music directly from iOS.
Oyster.com: "Crowdsourcing" is supposed to be the name of the game when it comes to reviews these days—there are plenty of sites that draw on the wisdom of the masses when it comes to rating restaurants, cafés, hotels, and other businesses. Oyster.com's big bet is that there's still an audience for expert opinion, even when it comes to hotels. And the company's free new iPad app delivers that expert opinion in spades, offering reviews of more than 2500 hotels in 100 cities, listing the pros and cons of each facility, and displaying 650,000 photographs of the various premises so that you can make your reservation with few surprises. The app also includes maps and a travel guide to help you plan your agenda without getting lost.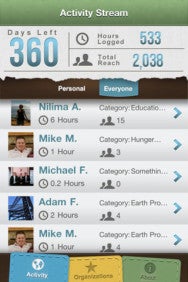 Reward Volunteers: The idea of combining altruistic pursuits and gamification might seem paradoxical, but that hasn't stopped developers from producing a free iPhone app that does just that. Reward Volunteers utilizes Facebook Connect to help volunteers at non-profit organizations log and share their activities; they can post them to their Facebook wall and track the time they spend working for charity, accruing that time as in-app points towards prizes ranging from cheese baskets all the way up to an Alaskan cruise (and, of course, including the ever popular option of cash). The developer, Chalo Inc., says the app helps make volunteer activities "measurable, fun, and social."