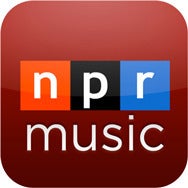 NPR recently released its first version of the NPR Music app for the iPad. Like its iPhone and iPod touch predecessor, NPR Music for iPad is free (but ad supported) and offers access to both live music-centric NPR streams as well as archived content. Here's a first look at the new app and what it has to offer music lovers—spoiler alert: it's a great app.
The layout
This very slick app opens to a home screen that provides links to featured stories, radio stations, headlines (in my case the announcement of an upcoming free concert by The Shins), and archived audio and video performances and interviews. Along the top of the display are Articles, Videos, Programs, Genres, Favorites, Search, and Settings buttons.
Tap the Articles button and you'll see a list of featured archived content. This includes audio tracks, videos, and text articles. The Videos button takes you to a screen that offers links to featured videos taken from a variety of NPR programs. Tap the Programs button to display such featured programs as All Songs Considered, First Listen, Song of the Day, Alt Latino, World Cafe, NPR Music Live, Tiny Desk Concerts, Favorite Sessions, The Thistle & Shamrock, Mountain Stage, Piano Jazz, and 50 Great Voices. Although not specifically listed, you'll also find audio clips taken from the popular Fresh Air program. Tap Genres to see entries for Rock, Jazz, Classical, Hip-Hop/R&B, Folk, World, and Electronic/Dance.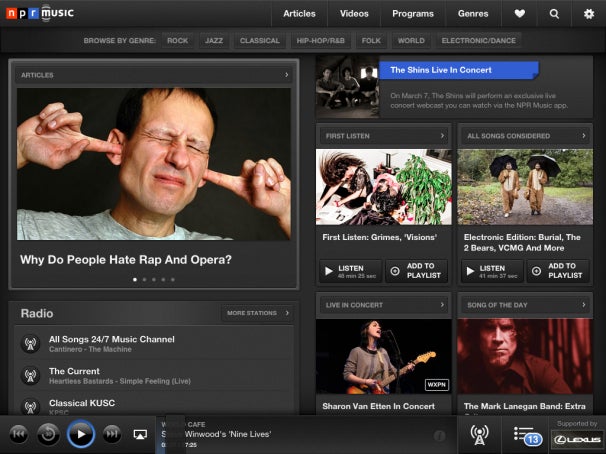 At the bottom of the home screen are the app's play controls, a timeline and playhead, a Radio button for quickly switching to the app's Stations screen (more on that shortly), and a playlist button for viewing those items that you've added to the app's playlist. You can not only add items to the playlist, but also save them for offline listening—a good idea as you don't want to eat up a 3G data plan streaming these videos, say. And the app supports AirPlay as well.
Radio, radio
Tap on the Radio button and in the resulting Radio screen, you'll spy a column that contains a few genre listings—All, Rock, Jazz, and Classical. Tap one and the right side of the screen displays at least one featured station along with a list of all of NPR's stations associated with that genre. For example, tap Classical, and Classical MPR and Q2: Living Music, Living Composers appear under Featured Stations. There are 41 additional stations that appear in the All Classical Stations area. Tap the heart icon next to any station and that station now appears below the Favorite Stations entry at the top of the screen (until you've chosen at least one favorite, you won't see that entry). Tap the Favorites button at the top of the window and you'll also see your favorite stations.
The quality of the various station streams varies because they're not all streamed at the same bit rate—some may stream at 64 kbps while others are streamed at a higher-quality 128 kbps. Regrettably, there's no indication of the bit rate at which each station is streamed, so you may have to tap around to find the highest-quality stations. Also, because many of the stations are streams of terrestrial NPR stations you'll hear the occasional radio host and, at certain times of year, pledge drives.
When playing radio stations, you'll see no Now Playing screen. Rather, the play controls are at the bottom of the screen and information about the currently playing track display in an area that, using other functions, shows a timeline. Oddly, there's no volume control here—if you want to adjust volume you use the hardware volume controls on the side of the iPad or the volume control in the iPad's multitasking bar.
Archived content
NPR has been covering music extensively for years, and the backlog of material available through the app is impressive. I spent hours looking up favorite artists and playing old interviews and performances that I'd never heard before. But then I fit well into NPR's demographic. This content is tuned for the NPR audience. If you're a fan of music on the fringes—death metal or Japanese court music, for example—don't expect to find much here.
Look and sound
NPR Music for iPad is very professionally put together. The layout is solid, the design attractive, and it's easy to navigate. It can be a little sluggish, however. For example, when I tapped the Playlist button it took around 12 seconds to finally display my playlist. When I tapped the Home button it took at least that long to completely load the homepage due to its updating the featured content thumbnails.
Most of the time the video and audio are quite good. However, using a DSL connection that downloads at around 4 Mbps, I found that at times the app would play videos before enough of the stream was cached to ensure good-looking video and clear audio. Even when getting a solid stream, the quality depends on the bit rate delivered to you. Overall, I was quite happy with what I heard—both with headphones and over AirPlay.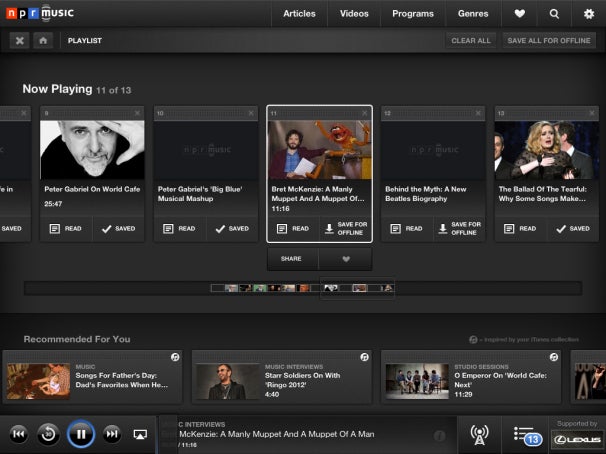 The app is ad-supported but that advertising is quite restrained. You may see a short ad when you first launch the app or play a video. Otherwise, there's a small ad box in the bottom right corner of the app. Tap it if you want to view the associated ad.
Nice work
NPR Music for iPad has great archived content and radio stations, a lovely design, and is free. Other than occasionally poky performance, there's very little to dislike about it. Unless your tastes run to the kind of music unlikely to be featured by the app, it's a worthy addition to any iPad.