When I'm working, it's a good bet that that I've got music playing. Which is why I'm such a big fan of OS X add-ons for controlling iTunes. Besides my favorite, Cover Sutra, we've covered Synergy, SizzlingKeys, I Love Stars, and more. But these programs are designed for people like me, who want to be able to perform lots of different iTunes-related tasks from the menu bar or using keyboard shortcuts. For those who just want a basic iTunes controller in the manu bar, Skip Tunes ( Mac App Store link) is a simpler alternative, and one that works with more than just iTunes.
With Skip Tunes running, you get a tiny controller in your menu bar that displays a play/pause button, a skip-forward button, and a music icon. The play/pause and skip-forward buttons work as you'd expect, and they control not only iTunes, but also the Spotify and Rdio music apps—whichever app is currently running.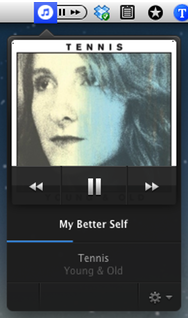 Skip Tunes's menu-bar controller is missing a Back button, but that's part of the point of the app—it's right there in the name, after all. But if you really want to skip back, just click the music icon to bring up the full Skip Tunes display, which shows the current track's album art; skip-back, play/pause, and skip-forward buttons; a progress bar; and the track, artist, and album names.
(If you tend to use the full display instead of the menu-bar buttons, you can opt to display just the music icon in the menu bar. A related feature I'd like to see, in these days of over-crowded menu bars, is for Skip Tunes to hide its menu-bar controller if none of the supported music players is running.)
Skip Tunes works well, although in my testing it occasionally got confused if I had more than one of the supported music players running—a frequent situation for me, given how many things iTunes handles these days in addition to basic music playback. Skip Tunes provides a setting for Default Music Player, which should determine which app has priority, but when I had both iTunes and Spotify running, Skip Tunes occasionally froze. (It eventually unfroze without me having to quit and relaunch it.)
Keyboard jockeys will want to look elsewhere (the utilities mentioned above all provide iTunes keyboard control), but for those who prefer a mouse, trackpad, or trackball, Skip Tunes is a simple and elegant option for controlling audio playback.