When Apple released Lion (OS X 10.7), Mail received its biggest overhaul ever, gaining many new and noteworthy features. The changes to Mail in Mountain Lion are more subtle, though there are some nice improvements—along with one significant omission.
Inline find
Mail has always let you find text within the body of an email message, but in the current version of Mail, you use a separate Find dialog that highlights only a single result at a time; to find subsequent instances of your search string, you repeatedly click the Next button (or press Command+G). Mail in Mountain Lion gains a Safari-like inline find feature: Press Command+F (or choose the Find command in the Edit menu) and type your search string—in a field just above the body of the current message, rather than in a separate window—and the body of the message is dimmed, with every occurrence of your search string displayed. You can use the arrow buttons next to the search field, or their keyboard-shortcut equivalents, to cycle through occurrences.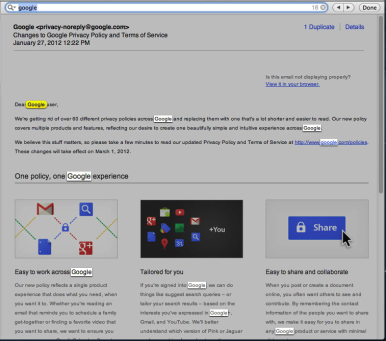 You don't lose the capability to use Find & Replace, however. Whenever you do an inline find while composing a message, a Replace checkbox appears; check that box, and you can enter your replacement text, with options to replace just the current instance or all instances of the search string. The location of the find/replace fields within the current message window is more convenient than—and reduces the screen clutter due to—a separate Find window. It's also less confusing, as you'll never see a Replace option for an incoming message. On the other hand, you lose the Lion option to perform case-sensitive searches, but we suspect this won't be an issue for most users.
Notifications in rules and selective notifications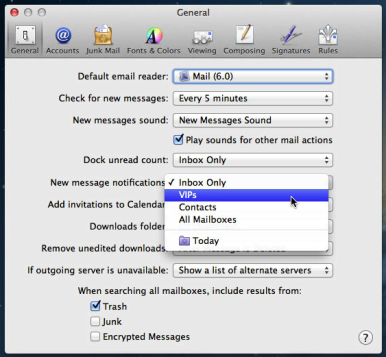 One of the marquee features of Mountain Lion is an iOS-inspired Notification Center that centralizes alerts and notifications from all your Notification Center-enabled apps. Mail takes advantage of Notification Center to alert you to new messages, but instead of displaying a notification for every new message, as with iOS, OS X Mail lets you choose which new messages should trigger notification alerts: messages in any mailboxes, messages that land in your Inbox, messages from your contacts, or messages from people you've designated as VIPs (see the next item).
In addition, you can also use notifications in Mail rules, as Send Notification is a new option for rule actions. So, for example, you could configure a rule to display a notification whenever you receive a message sent to your work email address, but not your personal account.
VIPs
We all have particular people—our family members, our boss, our bookie—whose messages are more important than others. While Mail in Lion let you use combinations of rules, labels, and mailboxes to make a particular person's messages easier to identify or view, Mail in Mountain Lion adds a new feature that's custom-made for such purposes: VIPs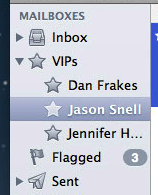 A VIP is any person you designate as being important enough to have their messages treated differently by Mail. You designate someone as a VIP by clicking the star icon to the left of the person's name in any incoming or sent message. You'll immediately notice that every message to or from that person now displays a star in message lists, making it easier to find those messages. In addition, when you designate a sender as a VIP, that person gets his or her own entry in a new VIPs section of Mail's Mailboxes sidebar. Click a VIP's name, and you get a list of all messages, across all mailboxes (including Sent and Trash), to or from that person.
You can also take advantage of VIP status in mail rules: Mail includes a new condition called Sender Is VIP. Combine this with the new Send Notification action mentioned above, and you can configure Mail to notify you whenever email arrives from one of your VIPs. Of course, you can also use any other available mail action on messages from a VIP.
No more RSS
One thing you won't find in Mountain Lion's Mail app—at least as it stands today—is the RSS feature. Whereas in Lion you can subscribe to an RSS feed in Mail in order to be alerted to, and to read, newly published articles from your favorite websites, that feature appears to be gone from Mail in Mountain Lion. Mail's preferences window has been stripped of the RSS pane, and there's no longer an Add RSS Feeds command in Mail's File menu.
What makes this omission especially curious is that RSS functionality also seems to be missing from Safari in Mountain Lion. It appears that if you want to read RSS feeds in Mountain Lion, you'll have to turn to a third-party app—at least, if nothing changes between now and the arrival of the final version of this OS X update in late summer.