Though Safari didn't receive as huge an overhaul in Mountain Lion as other OS X apps have, it still got some love from the folks in Cupertino. Refined search interfaces, sharing integration, and clear-cut password storage are just three of the things you have to look forward to come this summer—here are a few brief impressions of Safari's new features.
A new look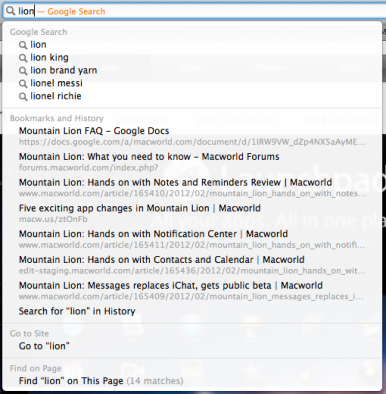 Those who favor the "one big search bar" approach to surfing the Web will be pleased to see that Safari's toolbar has taken just that cue: The browser now sports a single lengthy field that can be used to type in a URL; pull up the top result in your selected search engine from a keyword; or search the Web, your bookmarks and history, or within the page itself. URLs themselves have taken on a slightly Chrome-esque look, automatically removing the "http://" at the beginning of the link and graying everything in the URL following the root domain.
To the left of this bar is Mountain Lion's new Share button, which you'll see popping up just about everywhere in the operating system when it launches later this year. Share in Safari currently only offers adding to your Reading List, adding a bookmark, emailing the page, iMessaging the link, or sending a tweet about it; Apple may expand this list at some point in the future, but there's currently no way I could see to customize it.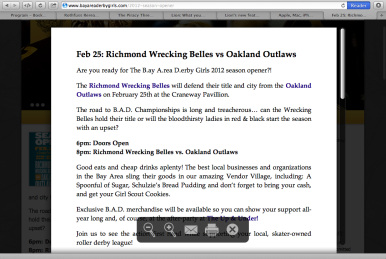 Look to the right, and you may notice Safari's first major missing feature: RSS. It looks as though Really Simple Syndication was just not simple enough for Apple; the company has excised RSS entirely from Safari (and from Mail as well), leaving feed-parsing to external applications such as NetNewsWire or Reeder. If you have such a program installed and attempt to type in or click on a "feed://" address, Safari will automatically punt you to your respective program; otherwise, it displays an error.
In place of the RSS button and old search bar, Safari has added a giant button for Safari Reader, which highlights the text on a page for an easier browsing experience. When browsing a page where Reader can be used, the button will be blue; for all other pages, it's grayed out.
Preference tweaks
Unsurprisingly, several changes made in this version of Safari relate to user privacy, a particularly hot-button issue in recent years. There's now a "Tell websites not to track me" box under Privacy, along with a setting to "Allow search engine to provide suggestions," which relates to Safari's search capabilities. A new Passwords section lets users see each website they've saved information for, along with their usernames and obscured passwords. (Passwords can be revealed, but only after several rounds of user authorization.) You can delete individual stored passwords, or remove every one, if you so choose.
There were two other things of note that I found during my preferences exploration. Safari no longer offers an option to set default fonts and sizes (though you can upload a style sheet or force the browser not to show font sizes smaller than a certain number); as the Web relies more on CSS styling, this makes a certain amount of sense, though I'm sure there's a contingent who won't be so happy about it.

The other discovery is somewhat intriguing: It appears that websites in Safari will soon be able to send Notifications to Notification Center—pending user approval, of course. Each site can either prompt you for authorization, or you can deny them outright; there's also a list of sites you've approved in the past, which you can prune like the Passwords section. This looks to be based off the HTML5 Webkit notifications API, though we haven't had a chance to test this feature currently. According to the preference pane, these alerts will also only pop up while Safari is open—close it, and websites will be unable to send notifications to you.
Updated at 10:10 a.m. to include information on HTML5 Webkit notifications.
[Serenity Caldwell is a staff editor for Macworld.]