Over the weekend, Apple settled an almost two-year-old class action suit over the iPhone 4 and its alleged antenna issue.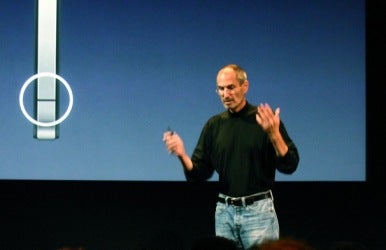 When the iPhone 4 went on sale in June 2010, some users quickly reported issues with the phone's antenna. About a month later, Apple held a press conference wherein the company stated that it didn't believe the issue was tremendously significant, that all phones displayed signal attenuation if touched in certain spots, that the iPhone's algorithm for displaying signal strength was wrong, that anyone dissatisfied with their iPhone 4 could return it for a full refund, and that the company would offer anyone concerned about the reception issue a free iPhone case—because such cases eliminated the signal drop issues. Apple's declarations didn't satisfy everyone; some customers filed a class-action lawsuit against Apple over the issue. On Saturday, Apple settled that suit, agreeing to offer every U.S. iPhone 4 purchaser either $15 or—wait for it—a free case.
An Apple spokesperson told Cnet, "This settlement relates to a small number of customers who indicated that they experienced antenna or reception issues with their iPhone 4 and didn't want to take advantage of a free case from Apple while it was being offered in 2010."
The final settlement covered 18 separate lawsuits that had been combined into a single suit spanning 25 million customers. The settlement requires that Apple email all eligible customers by the end of April. Customers will then have 120 days to respond in order to qualify for the $15 or free case. Apple will also print a notice of the settlement in USA Today and Macworld.