Among the many Mac text editors available, Hog Bay Software's WriteRoom ( Mac App Store link) stands out as a distraction-free tool that still offers a plethora of options for writers to set up their environment exactly the way they want.
Your first contact with WriteRoom is one that gives you the freedom to write, and to not worry about anything else. Like other focused text editors, such as iA Writer ( ), WriteRoom offers a basic writing view—in this case, a light-gray background with black, sans-serif text (Bitstream Vera Sans, one of my favorite fonts), and no toolbars or buttons.
If you like this layout—the font, background color, text width and so on—you can just use the default settings. But if not, you're free to tweak options. The previous version of WriteRoom, which Macworld reviewed in 2008, had a preferences window hosting dozens of options. WriteRoom 3 takes a different approach—there's no preferences window, but the program offers a number of options in its menus. The Format menu lets you change font, size, justification, and line wrap, as well as the number of characters per line. The View menu lets you toggle settings such as typewriter scrolling (the line you're typing is always in the middle of the window—an essential feature in my eyes), highlighting of the current line, viewing invisible characters, and more.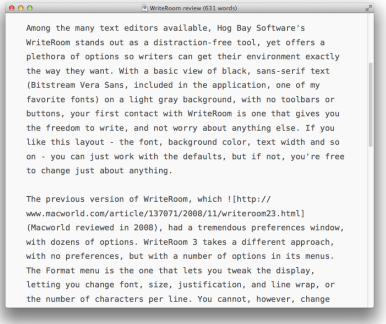 If you don't want to be bothered with your own settings, you can apply themes, which are combinations of fonts, colors, and backgrounds. I don't find any of the included themes to be appealing, but you can create your own theme, choosing your favorite font and font size and adding a background color or image. (The developer also hosts a collection of user-submitted themes.)
WriteRoom lets you create and edit documents in either text (.txt) or rich-text (.rtf) formats. Some similar apps are limited to .txt or Markdown files, and the capability to style text—and view styled text—in documents makes WriteRoom a bit more flexible.
WriteRoom is optimized for Lion, including a full-screen view. However, one oddity is that the basic WriteRoom theme—black text on a light-gray background—changes to white text on a dark-gray background when you switch to full-screen mode. While some people may prefer this theme, I find it hard on the eyes. (Plus, I would have expected the default theme to remain the same in both views.) You can of course tweak this appearance, but it doesn't seem like you should have to.
Some of the other useful features in WriteRoom include a live word count in the title bar (great for people like me who often write to a word count; you can also view character count, page count and more), and Dropbox syncing to the iOS version of WriteRoom. I'd like to see iCloud syncing, as well, as that would make it easier to use WriteRoom on both a desktop Mac and laptop, but Dropbox is good enough.
If you want a minimalist tool for writing, WriteRoom is likely to have all the features you need. And even though you can personalize the app all you want, you can also ignore those options and just write. Perhaps best of all for writers on a budget: While WriteRoom 2 was $25 back in 2008, WriteRoom 3 is only $10.
UPDATED 2/21/2012, 11:39am, to correct statement that WriteRoom doesn't offer a line-spacing setting; it does.