There are numerous changes to look forward to when Mountain Lion roars onto the scene this summer, along with some major system additions like Notification Center and Gatekeeper. But for those uninterested in flashy features, there are plenty of minor system changes, too. Here's a quick look at ten that caught my eye.
Sharing, sharing, everywhere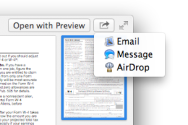 Mountain Lion's new Share button (modeled after iOS's Action button) is just about everywhere in OS X 10.8. It's embedded in apps like Safari. It's a new button in Quick Look. It's present in the bottom right corner of an app's Open menu. And share options like Twitter and Email are even available when right-clicking on text in certain programs. The message is clear: Apple wants it to be easy for you to share files, folders, pithy phrases—you name it.
Many computers, one account
In keeping with the sharing theme, Apple will let users sync their accounts across computers. It may not be as full-featured as iOS's "Restore from iCloud Backup," but I'll welcome any kind of account parity between computers—especially if this brings back password and Dock syncing.
iCloud-y documents
While Apple shows no sign of throwing out the file system whole-hog just yet (and good thing, too), there will be a new option popping up with Mountain Lion: iCloud document storage, a central online repository for your files, images, PDFs, and such. You can create new documents within iCloud directly, add documents from your Mac by dragging them into the window, or send them back to your Mac by dragging them out.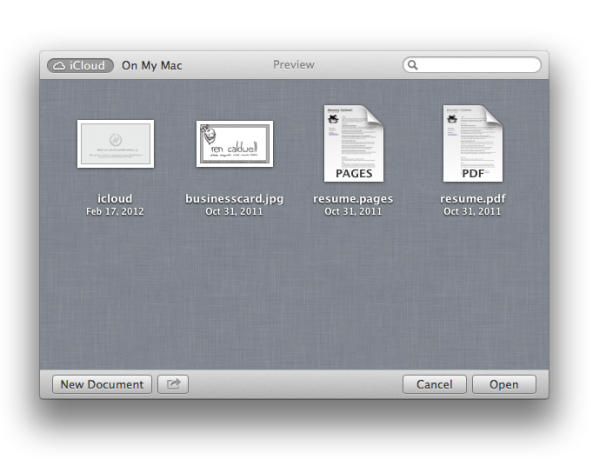 Screen sharing: Now with draggable files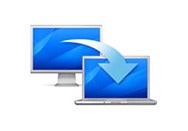 Apple's Remote Desktop software has had drag-and-drop file sharing for several years; now, every Mountain Lion user who uses Screen Sharing will have that same privilege. Just drag a file or folder from your shared screen to your own desktop, and voilà—it'll appear on your local Mac.
Multi-disk backup
After having a terrible hard drive disaster back in college, I've been horribly paranoid about my backup arrangements. Mountain Lion will humor my paranoia by letting me use Time Machine to back up to several disks at once, automatically. And since OS X supports backup to networked drives, I can keep my files current in several physical places as well, without any extra work.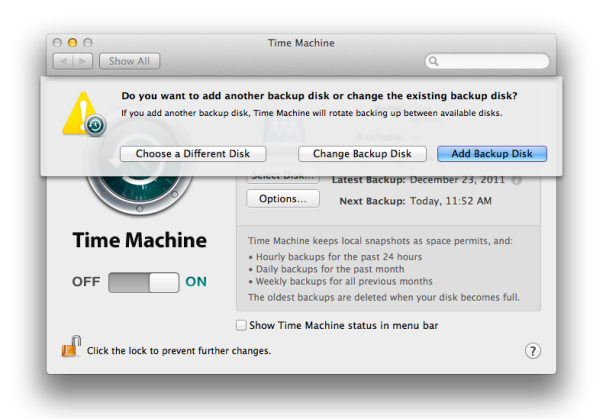 One-stop software updating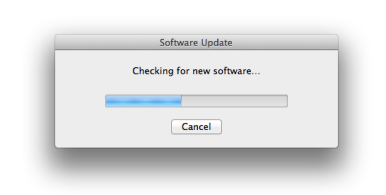 Software Update, possibly the slowest Apple program on your Mac, is saying goodbye in Mountain Lion. Instead, the App Store will be handling any system patches, along with updates for your Mac App Store programs. And as a bonus, Notification Center will alert you in the background when updates are available, saving you five minutes of staring at the "Checking for new software" window.
Accessibility gets a little more… accessible
In the past, Apple's Universal Access preference pane presented a panoply of options to the user, and always struck me as a little bit intimidating. Mountain Lion's revised Accessibility pane simplifies the process greatly by taking a cue from iOS: Information is presented in three categories—Seeing, Hearing, and Interacting—with clearly labeled sub-sections under each.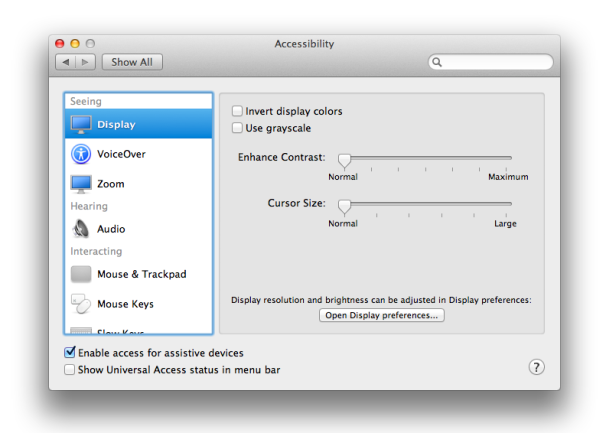 Picturesque screen savers
Your Apple TV has long been able to put together really lovely slideshows with your photos; now, your Mac will be able to do the same. You'll be able to chose from 15 different slideshow options—including Holiday Mobile, Photo Wall, and Scrapbook—that can highlight selections from your iPhoto or Aperture library, or a random folder.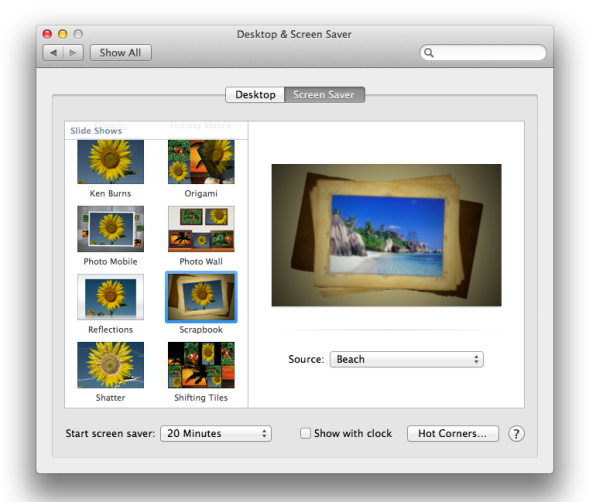 Gesture simplification and key commands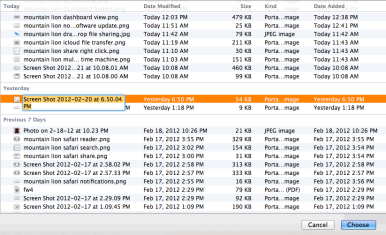 Granted, keyboard shortcuts and advanced gestures may not be at the top of everyone's excitement list, but they make me happy—especially when it pertains to things like inline dictionary definitions, duplicating documents, and renaming files.
First, Apple has simplified Lion's "three-finger double-tap" to define dictionary definitions, reducing it to a single three-finger tap. Easier on the fingertips (and easier to explain to others, to boot). For those who don't love how Lion replaced Save As with the Duplicate command, Mountain Lion attempts to ease the pain by automatically associating the Save As key command (Command-Shift-S) to Duplicate. And if you can't remember to rename your files in the desktop, you now have a new option: within the Open/Save dialog box itself.
Dashboard gets some love
When Dashboard was first introduced as one of OS X Tiger's keynote features, I remember being overly excited. Widgets! Easy access to weather, multiple clocks, and—hey—a relevant use for Stickies! Unfortunately, Dashboard was slow as molasses, widgets never really caught on, and once the iPhone came to the scene, those little single-purpose miniature apps were a whole lot more useful on a mobile device.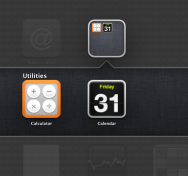 That being said, it looks as though Apple might be prepping Dashboard for an iOS-integrated resurgence. With Lion, Apple gave Dashboard its own space; in Mountain Lion, widget organization now resembles an iOS home screen (like Lion's Launchpad), with rows of widgets represented by an icon. These can even be sorted into folders, or individually rearranged.
Could these changes offer a gateway for running certain iOS apps on the Mac? Maybe, just maybe: We'll have to wait until Mountain Lion's release to know more. At the very least, it's nice to see poor old Dashboard not completely left in the dust. (I like my weather widgets.)
Staff writer Lex Friedman contributed to this report.
[Macworld staff editor Serenity Caldwell is hard at work excavating cool system features in Mountain Lion so that you don't have to.]