For iOS devices, the mobile versions of TurboTax provide a kind of tale of two cities. iPhone and iPod touch users can turn to TurboTax SnapTax, an app that is designed to make use of your iOS device's built-in camera and which is aimed at those who only plan of filing a 1040EZ tax return. For those with an iPad at hand, there is TurboTax 2011, an app that matches up very nicely with the desktop edition of TurboTax Deluxe. Both apps are available as free downloads from the App Store; you only make a payment when it comes time to file your taxes.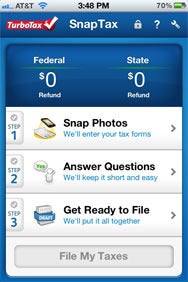 SnapTax runs you through a three-step process: 1) You snap photos of your W-2s, after which SnapTax performs an OCR scan of the document to extract your income and other pertinent information; 2) You answer several personal questions; and 3) You file your taxes.
SnapTax's W-2 photo scan is a clever feature that worked with varying degrees of accuracy in my testing. For my wife's W-2, which was almost square in size, the OCR scan was able to import information every time, but much of the scanned information was incorrect. For example, Social Security tax withholding showed up as Social Security tips, which meant that it was counted as income instead of withholding. For my horizontally oriented W-2 I was able to get SnapTax to gather my information in one out of ten attempts. Fortunately, I was able to manually correct and enter my W-2 information with little effort.
More frustrating was the fact that SnapTax does not save any information if you don't create a free TurboTax account or if you are in the midst of entering data, get distracted for a moment, and the device goes to sleep. Also, unless your tax return is very basic (think 1040EZ), you will not be able to complete your tax return using the app—instead, the app pushes you to the TurboTax website to finish off your return. That makes SnapTax a clever idea and probably best suited for younger users who don't have complicated returns to prepare. For most filers, you're better off going straight to the TurboTax website, which you can also use with your iPhone or iPod touch.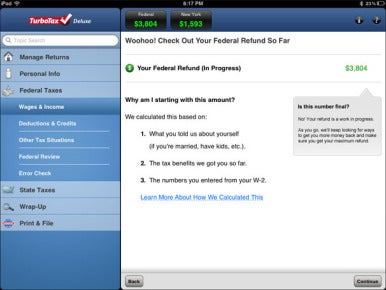 What SnapTax lack in capabilities, TurboTax 2011 makes up for in spades. Like SnapTax, you can download TurboTax 2011 for free and work on your return; you only need to pay when it comes time to file. TurboTax 2011 is an iOS doppelgänger to the desktop version of TurboTax Deluxe, both in features and functionality. Like its desktop sibling, TurboTax 2011 walks you through an interview process that is designed to determine what forms you need in order to file your taxes. Once the interview is over, you begin entering line items for your income, witholding, and deductions. The program worked perfectly from start to finish.
Like the desktop version, the program was unable to automatically import any of my W-2 or banking information, but the overall process was so enjoyable and the data entry was so easy, that fact that I couldn't import data was no problem.
Filing fees for TurboTax 2011 start at $30 for a federal return; if you are required to file state taxes, you will need to pay for a state filing as well.
With the exception of very basic returns—and maybe not even then—TurboTax SnapTax is a nice idea that doesn't yet work the way it should. Your best bet is to head straight to the TurboTax website on your iPhone or iPod touch and file your taxes that way. If you have an iPad, TurboTax 2011 as an excellent option that makes filing your taxes a simple and nearly painless process.
[Jeffery Battersby is an Apple Certified Trainer, (very) smalltime actor, and regular contributor to Macworld. He writes about Macs and more at his blog.]