Like TurboTax for iOS, H&R Block at Home for iOS comes in two very distinct flavors—one designed for your smaller iOS device that can only complete the 1040-EZ and another for your iPad that can complete more complicated returns. As was the case with the desktop versions of these applications, the H&R Block apps don't offer much in the way of eye candy, but they are sufficient to handle most of your tax processing needs.
As its name indicates, H&R Block At Home 1040EZ aims to complete your 1040EZ tax forms. Before you can use the app, you first need to create an H&R Block account. Oddly, if you have an existing account that you've created at H&R Block's website, you will not be able to use that with the app. Likewise, once you've converted the smartphone account you've created on your phone to an online account, you can no longer use it on your phone. Intuit's SnapTax for iPhone and iPod touch lets you finish your taxes via the Safari mobile browser; that's not an option with H&R Block at Home 1040EZ.
At Home 1040EZ has a distinct advantage over the TurboTax app when it comes to photographing and scanning W-2s: At Home worked perfectly every time, no matter how my W-2 was oriented.
For the iPad, H&R Block offers Free Edition, which allows you to complete and file a basic return using your iPad. Like the desktop app, the mobile At Home Free Edition walks you through a brief personal questionnaire to help determine whether or not your taxes can be completed using the app. While the questionnaire was easy to use, I found that its questions were not as clear or as obvious as the ones posed by the TurboTax iPad app. In fact, I'd completed my entire return before realizing that I had not entered any K-1 information and that I was also missing some other forms as well. In fact, since these questions weren't obvious during the interview process, it would have been possible for me to complete and file my return without any clue that there was information I hadn't entered.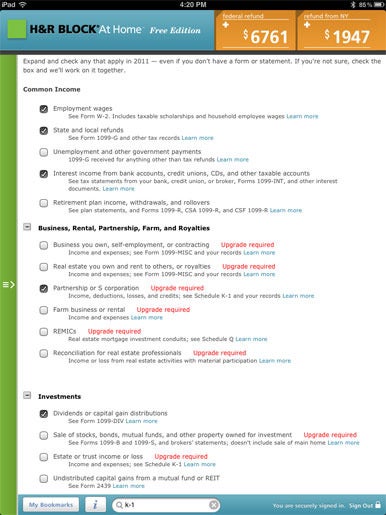 H&R Block's Free Edition supports more complicated tax returns, but the app hides these deluxe features by default. Once I was able to locate the options for adding K-1 information and other similar forms, the H&R Block app made it clear that I was no longer able to use the free version of the app and offered me the option downloading the other forms I needed. I wasn't required to pay for anything at the time I downloaded the forms, but the app made it clear that in order to file these returns I would have to pay a minimum of $20.
H&R Block at Home 1040EZ is a good tool for filing taxes as long as you have very basic needs. Anything beyond the most simple return will be much more than this app can handle. H&R Block at Home Free Edition will do a fine job of handling your taxes, but the onus is on you to make sure that you have completed the interview process in such a way that you have answered all the questions necessary to complete your return.
[Jeffery Battersby is an Apple Certified Trainer, (very) smalltime actor, and regular contributor to Macworld. He writes about Macs and more at his blog.]