OnLive, the streaming game service, made a move for mainstream appeal last month by announcing OnLive Desktop, a free iPad app and Web service that gives you limited access to a Windows 7 desktop, including a basic version of Microsoft Office, from the tablet. But that initial version of OnLive Desktop had its share of problems.
Now OnLive has released a new option for its OnLive Desktop service, OnLive Desktop Plus. This Plus version isn't free: You'll need to pony up $5 per month for the service (the app itself is still free). But the Plus version does add Internet Explorer 9 to the software suite, along with access to third-party storage sites including Box.net and Dropbox. You also get "priority access", which means you're served first if the OnLive servers ever get overloaded.
On the down side, the new version seems to do little to address the critics. Interaction is still through Windows 7's somewhat wonky touch interface. Access to Dropbox or Box.net is a nice addition to the 2GB of storage you get with your OnLive account, but the implementation is somewhat clunky. For example, you don't get the Dropbox app on the Windows desktop, which would have let you create an easy-to-use shared folder. Instead, you need to access your account on the Dropbox website via the browser.
While access to Internet Explorer seems like a minor addition, it does mean enhanced bandwidth: When you browse the Web through Onlive Desktop, the browser is really running on an OnLive edge server. That means you actually get much higher throughput than you would with plain old Safari on the iPad—webpages load almost instantly—because your iPad isn't doing all the processing required to render the page.
Access to cloud-based apps such as Google Docs or Office Live is equally speedy, even if you're working with large documents. But then you run into the limitations of the Windows touch interface, including the sluggish onscreen keyboard.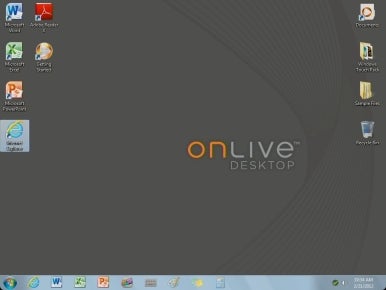 You can attach a Bluetooth keyboard to the iPad for use within OnLive Desktop, but some features still don't work as expected. For example, you can't tab between form fields—even simple ones like login screens. And you still need to use the Windows touch interface for pointing. OnLive is working to allow the iPad's own virtual keyboard to work with OnLive Desktop Plus, but that won't be available at launch.
The OnLive browser also provides full Flash video and animation compatibility. Combined with the high bandwidth, that means you can get multiple video streams without noticeable slowdown; again, Flash and the browser are running on the OnLive server, not locally on the iPad. Interactive Flash apps seem to work well, too. For example, Intel's Museum of Me demo, which gathers data from your Facebook account to create a virtual museum of your Facebook posts, ran perfectly fine. I also headed over to Armor Games' repository of Flash games, and was able to waste time on several titles there.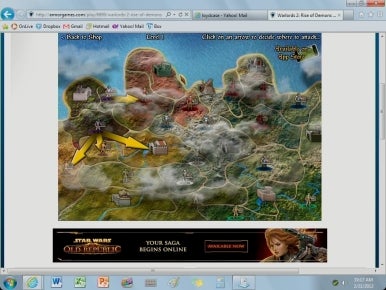 Is all this worth $5 a month? Road warriors carrying a Bluetooth keyboard along with an iPad might find the service useful if they use cloud-based apps to edit big documents that had previously choked the tablet. Video and flash gaming enthusiasts might also be able to use the iPad as a one-stop entertainment device; sixty bucks a year is about the price of a console game, so Onlive Desktop Plus will clearly appeal to some subset of users. If the $5 price tag still seems steep compared to some other iPad apps, consider what would happen if it were cheaper: the OnLive servers could well be overwhelmed. Still, if all you need is access to Office apps, you might just stick to the free version, warts and all.