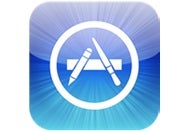 A group of Chinese writers has nearly doubled the amount of compensation it is seeking from Apple in a lawsuit that alleges the U.S. tech giant has been selling pirated versions of the authors' works on the company's App Store.
On Wednesday, the group filed a revised petition with the Beijing Second Intermediate People's Court, demanding Apple compensate the writers for 23 million yuan ($3.6 million), up from the previous 11.9 million yuan they had asked for in December.
The group increased the amount after finding an additional 26 pirated works that were being sold on the App Store, according to Bei Zhicheng, executive for the writer's group.
Starting last July, the writers contacted Apple about removing the alleged pirated products from the App Store, which takes a 30 percent cut from app sales on the platform. Apple has acted too slowly to remove the products, or even at times declined to delete the listings, the group complained.
In January, the Beijing court accepted the writers' group's lawsuit against Apple. The lawsuit claims the App Store has hosted 59 pirated works from nine different Chinese authors.
Apple did not respond to a request for comment.
The company has told the writers to contact the developers selling the alleged pirated products, the group said. But the developers often provide little or no contact information on the App Store, Bei said. The group estimated that downloads of some of the pirated books have reached more than a million on the platform.