[Ask the iTunes Guy is a regular column in which we answer your questions on everything iTunes related. If there's something you'd like to know, send an email to the iTunes Guy for consideration.]
In this installment, the iTunes Guy answers questions about moving your iTunes library, opening multiple iTunes windows simultaneously, finding tracks in playlists, and more.
Move your iTunes library
The hard drive on my MacBook Pro is quickly filling up, and I need to move my iTunes library to an external drive. However, I want to maintain my music library on my hard drive and only move movies, TV shows and other items to an external portable drive. Is there any way of doing this?
It is possible. Start by going to the iTunes folder in the Music folder within your home folder (that's the one with the house icon, and your user name). The iTunes Media (or iTunes Music, if you've been using iTunes for a long time) folder contains the many sub-folders which, in turn, contain movies, TV shows, and more. Choose which of these folders you want to put on your external drive, then copy them to that drive. (Make sure you have a backup of these files first, just in case.)
Next, after the copy has finished, move the folders you have copied to the Trash. On the external hard drive, find the location where you copied the folders. Press and hold the Command and Option keys, then click on one of them and drag it to the iTunes Media folder; this will create an alias. As long as the external drive is mounted, any content you add to your iTunes library for those folders will go to that drive. When you connect and mount that drive, you should quit iTunes first, then relaunch it after it has mounted.
Find tracks in playlists
When viewing music in my library, I don't see a way to see which playlist or playlists contain a particular song. There is no such option in the "View Options" box. Is there any way I can find this out?
If you Control- or right-click on a track, you can choose Show In Playlist from the contextual menu to see which playlists contain that track.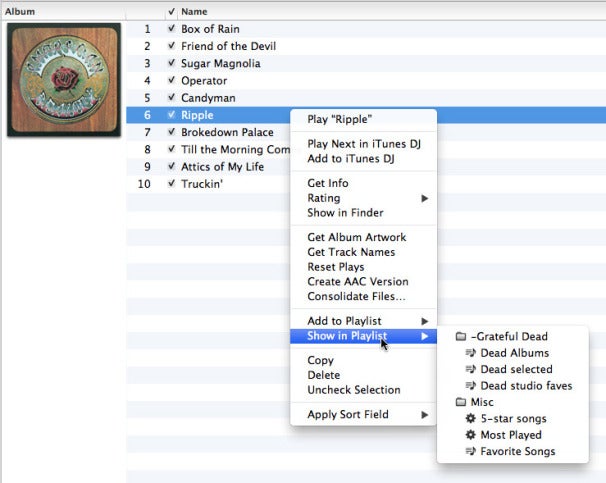 Figure out which tracks still have DRM
Years ago, Apple offered to take the DRM off of the customers' iTunes purchases for a flat fee. I took advantage of the offer but not all iTunes songs had their copy protection removed. Now I cannot tell which iTunes have DRM and which ones do not. Is there a very quick way to tell the difference?
Indeed, using a smart playlist. While in your Music library, choose File -> New Smart Playlist and set the first pop-up menu to Kind, the second to Contains, and in the text field type Protected AAC audio file, and save the playlist. If you want to see all your files with DRM—not just music, but also videos and books—just type Protected for the kind.

Optionally, you add the Kind column to iTunes's display (press Command-J, select Kind, and click OK). After that, you can sort by Kind by clicking on that heading in iTunes and you'll find all your protected tracks grouped together.
Open multiple iTunes windows
Is it possible to have more than one iTunes window open at a time? If so, how? That would save time when I want to look at both my library and playlists.
Yes, just double-click on almost any item in the iTunes source list (on the left) to open it in a separate window. Alternately, you can Control- or right-click on the item and choose Open In New Window from the contextual menu that appears. This works with the various libraries (with the exception of the main Music library), the iTunes Store, Genius, and your playlists. You can open as many different windows as your screen—and your sanity—will allow.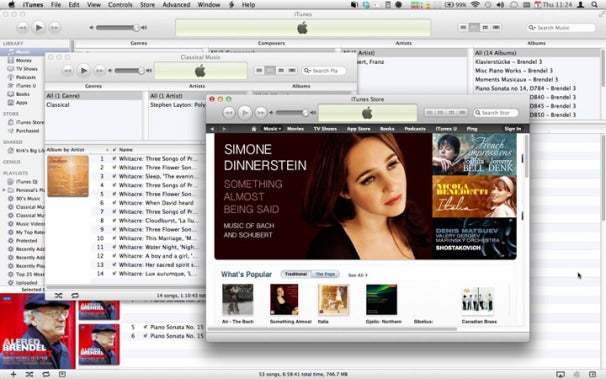 Share your iTunes library with multiple users
I have four user accounts on my iMac: mine, which is an administrative account; my wife's; my daughters'; and guest. I want them all to have unrestricted access to my iTunes library. I know they can share using Home Sharing, but at least for my wife, that seems too limiting in that she can't add songs or create playlists. What is the best way to allow these accounts to access my library, and make playlists?
Although you could move your iTunes library to the Shared user folder, this method can be rife with problems such as permissions issues. This scenario is a good example of where iTunes Match can be useful. You can set up the account with your library, in your user account, and other users can turn on iTunes Match in their accounts. They have access to all the music, and they can create as many playlists as they want. Be careful, though, because all the playlists get pushed to all devices using that iTunes Match account. You might want to create a playlist folder for each user, and have them put their playlists in that folder.
The downside is that they won't be accessing the music files in your account, and will be streaming them (which takes bandwidth) or downloading them (which takes up bandwidth and storage space). But assuming that they only want part of your library, they won't be downloading that much music.
[Senior contributor Kirk McElhearn writes about more than just Macs on his blog Kirkville. Twitter: @mcelhearn Kirk is the author of Take Control of iTunes 10: The FAQ, second edition].