Despite a couple dozen protestors sporting "Make Ethical iPhones" signs, the mood at Apple's annual shareholders meeting, held Thursday morning at the company's Cupertino campus, was celebratory—both for shareholders in general and for some shareholder activists.
The standing-room-only meeting attracted hundreds of shareholders, as both Apple's campus auditorium and the first video-feed overflow room were full before the meeting's 10 a.m. start time. The company used shuttles to take shareholders who didn't fit in the first two rooms to an additional viewing area.
New director-election rules
As is customary, the first part of the meeting focused on official business—namely, the reelection of members of the company's board of directors, and voting on a slate of other proposals, two from management and four from shareholders. But even before that began, Bruce Sewell, Apple's senior vice president and general counsel, announced a significant change in how the company's board of directors will be elected.
For a number of years, there have been shareholder proposals to require candidates for the board of directors to receive approval from over 50 percent of shareholders. (The current company bylaws allow a candidate running unopposed to be elected based on even a single vote in favor.) As is common in corporations, Apple's board has routinely recommended against the approval of these proposals. However, Sewell announced that, based on preliminary voting results, Apple shareholders overwhelmingly want majority voting, and so the company is going to change its bylaws to honor that preference.
Sewell also explained that because the change requires a number of modifications to the company's articles and bylaws, the new policy will go into effect next year. However, he added that each current director had voluntarily agreed to resign if he or she did not receive the approval of a majority of shareholders. In the question-and-answer session later in the meeting, a representative from CalPERS (the California Public Employees' Retirement System), the sponsor of the proposal, applauded the move, saying it was a win for democracy in corporate governance.
None of the current directors was at risk of losing a spot on the board, however, as in preliminary voting, each received over 80 percent of shareholder support. Specifically, Tim Cook received 98.2 percent; Ronald Sugar, 97.9 percent; Robert Iger, 97.8 percent; Andrea Jung, 94.0 percent; William Campbell, 88.6 percent; Millard Drexler, 88.2 percent; Arthur Levinson, 84.0 percent; and Al Gore, 81.4 percent.
Sewell also announced the results of preliminary voting for six other proposals (PDF link), with proposals approving of the current executive compensation report and the aforementioned majority voting passing; proposals on requiring conflict-of-interest reports, shareholder input on director pay, and reports on political contributions and expenditures failed.
The year in review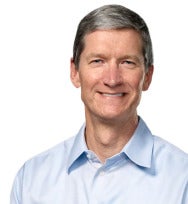 Before taking questions, Apple CEO Tim Cook spent some time reflecting on the previous year, noting that this was the first shareholder meeting since the passing of company founder and former CEO Steve Jobs. Thanking those in attendance for their support and condolences, Cook explained that Jobs's death had an effect on everyone in the company, but that "sometime in the days after, that sadness turned into a determination to continue the journey" Jobs started.
Cook then reeled off the now-familiar litany of Apple's 2011 successes, calling it "mind-boggling that it happened in one year":
New iPhones: "Siri is a word that's now recognized in almost every country in the world."
New iPads: "I can't imagine my life without [the iPad]…it's the most fabulous device I've ever had."
New Macs: Three new model lines represented "constant innovation in the Mac space. The #1 best-selling PC last quarter was the MacBook Pro."
A new version of iOS: "The developer base grew even larger. There are now over 550,000 apps—Apple has become a jobs platform."
A new version of OS X: "and just seven months later, we're previewing Mountain Lion." (Note to everyone: Cook called it "the Mac OS.")
The iPod: Still over 70 percent of the market in the U.S., with nearly that in some other countries.
The iTunes Store: "We're very close to 25 billion downloads. It's hard to intellectually comprehend that number."
Retail stores: Now over 360 stores around the world, and 110 million people visited them in the previous quarter. "We used to think Macworld [Expo] was fantastic when 50,000 came." Cook also told attendees that if they haven't seen the new Grand Central Station Store, "seeing it will make you proud to be an Apple Shareholder."
Revenue: $108 billion in revenue in 2011, $43 billion more than the year before. "That growth is more than the growth of HP, Dell, Nokia, HTC, Google, and RIM combined—it's really mind-blowing."
Cook ended the summary with a few words of grattitude: "For all of those who believed in us and stuck with us over the years, I thank you. Thank you very much."
Q&A
For many shareholders, the highlight of the annual meeting is the question-and-answer period, where anyone can line up for a chance to ask a question of the management team—it's one of the rare opportunities to see Apple executives interact publicly with people other than financial analysts. Though some people worried that protests, spurred by the controversy over working conditions at Apple's China-based suppliers, might disrupt the morning's proceedings, the roughly 25 protestors who showed up were limited to the public sidewalks at the entrance to the Cupertino campus. And inside the meeting, none of the questioners even mentioned Foxconn or factories, even in the context of how the controversy might affect the company's financials.
Indeed, of the seven or eight shareholders who had a chance to speak and ask questions in the short open-mic period, all were congratulatory, with only minor criticisms presented; this year, shareholders seem pretty satisfied with their lot, and were more interested in how Apple was going to continue its run of successes.
CEO Tim Cook, senior vice president of worldwide marketing Phil Schiller, and senior vice president and chief financial officer Peter Oppenheimer fielded the questions this year. Among the topics they addressed were Apple's mountain of cash, video-content distribution, social networking, education, and stock splits. (Quotes may not be exact, as Apple does not allow computers or recording devices in shareholder meetings.)
Cook, on the company's cash hoard: "We've spent billions on our supply chain, building our retail stores, and purchasing companies and intellectual property. We've spent a lot, but we still have a lot. The board and management team are in active discussions…we will do what we believe is in the best interests of the company and the shareholders."
Cook, on some shareholders disagreeing with the board's decisions (and ribbing board member Al Gore, in attendance): "It's difficult to get 100-percent agreement or votes…sometimes even a majority…Al, as you know, sometimes it doesn't even matter if you get the majority of votes."
Cook, in response to a shareholder urging the company to use its cash hoard to come up with an alternative to Netflix, Hulu, and the like for video-content distribution: "There are plenty of apps that provide content, and users want those apps. We get profit from selling devices…our focus is not on making a lot of money in content…An a la carte video system isn't likely to arrive quickly, because the money is big for the companies involved."
Schiller, on the same topic: "Just as we did with music, we have to find a solution for the content owners as well as the customers, and for Apple."
Cook, on whether Facebook is a friend or foe: "Facebook is a friend—we do a lot with them, and our users use them a lot. There aren't significant areas where the companies overlap, and I believe the two companies can do more together" And on social networking in general: "We've integrated Twitter into iOS, and we think iMessages is social networking."
Cook, in response to the best question of the day ("I just bought a new 55-inch LG TV for the SuperBowl, and I have 60 days to return it. Should I return it?"): "I'm not going to comment on that, but I will say that the Apple TV is an incredible product, and it's only $99. It will work great with your TV."
Schiller, in response to a rumor that Apple is working on "iLive, the home of the future": "Don't believe everything you read."
Cook, responding to a former scientist's request that Apple do more in education by sponsoring engineering and science scholarships: "We believe that education is a great equalizer." The percentage of Apple's matching-gift program going towards education is incredible—"it's just a start, but it's really good and it's really big." "I believe the contributions Apple will make to education will come from our products [such as iBooks Author] because they have a multiplier effect on students and teachers." Cook also noted that last year, Apple provided over $750,000,000 in equipment and equipment discounts to education.
Oppenheimer, also on the topic of education: Last summer was Apple's biggest internship program ever, with more than 600 interns on the Cupertino campus alone and many hundreds more around the world.
Cook, on the topic of a stock split: History shows that most stock splits don't actually help the stock over the long run; in fact, because of additional transaction costs, it may hurt. However, the company regularly talks about everything that might be in the shareholders' best interests, and will continue to do so.
Cook wrapped up the meeting with a general note of thanks, and a comment clearly designed to tease: "We're working hard as a team this year, and we've got some incredible products that will blow your mind."