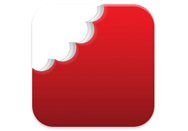 Apple has confirmed to Macworld that it acquired Chomp, a company that offers an app for searching the iOS App Store in clever ways.
The Chomp app for iPhone searches App Store apps. Chomp says that its app uses a "proprietary algorithm [that] learns the functions and topic of apps," which it claims helps users search for apps based on their true functionality, not just their names. The app also lists free apps of the day and trending apps, and offers app browsing by unique categories that don't exist within the App Store's own taxonomy: You can browse for apps focused on, say, "Star Trek," "Gluten Free," or "Pregnancy."
Chomp's app also offers the ability to follow your friends from Facebook and Twitter to see the apps that they review. The app shows screenshots and descriptions straight from the App Store, and kicks you out to the App Store when you're ready to purchase or download something.
Apple's acquisition of Chomp, first reported at TechCrunch and later confirmed by The Wall Street Journal, comes as the App Store's digital shelves are more crowded—and popular—than ever. An iOS customer will soon download the store's 25 billionth app; that app will be one of the more than 555,000 in the store.
In general, Apple doesn't offer any insights on its plans for the companies it acquires. For example, when Apple acquired Siri, it offered no hint that the search app would one day power systemwide, interactive voice recognition on the iPhone.
But the seemingly obvious explanation behind the Chomp acquisition is that Apple realizes—like many of its customers and third-party developers—that, as the number of iOS apps continues its steady climb to a million and beyond, it's getting harder and harder to discover new apps in the store. Developers have become increasingly reliant upon getting their apps featured on the App Store's main page for success; impressive, well-made apps that never make the New and Noteworthy or What's Hot list too often tend to languish in complete obscurity alongside subpar ones. That's motivated some less-principled developers to attempt to find ways to game their own App Store rankings in hopes of climbing to the top of the charts. Improved app discovery using Chomp's technology may well alleviate such problems.
As TechCrunch reported back in September 2011, Chomp also powers Verizon's app search interface on various Android phones. Don't be surprised if that deal isn't renewed whenever Chomp's contract with Verizon expires.
9to5Mac, meanwhile, reports that Chomp CEO Ben Keighran has already started working on the iTunes marketing team at Apple, and Chomp CTO Cathy Edwards is now a senior iTunes engineer. Bloomberg reports that Apple paid about $50 million to acquire the company.
There's no telling when we might see Chomp's influence in a revamped App Store app for iOS, or within the iTunes App Store (or even the Mac App Store). That said, it's a relatively safe bet that we'll see a significantly improved App Store browsing and searching interface before the 50 billionth app download.
Updated 9:02 a.m. PT to add that Apple confirmed the acquisition directly to Macworld.