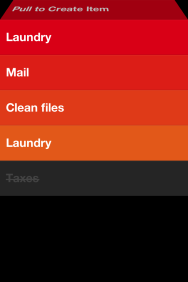 This week's round up of iOS app news offers solutions for running your desktop computer from your iPad, a cool way to tell stories using Twitter, and improvements to Twitter itself.
Already this week, Macworld's Lex Friedman reviewed the much-hyped Clear to-do app, calling it limited but "laced with charm and … fun to use." Lloyd Case took a look at OnLive Desktop Plus, an app that lets you run your Windows-based computer from your iPad; he recommended sticking with a free version of the app. And Jeffery Battersby took a look at the best iOS apps for figuring and filing your taxes.
Other news from the app universe: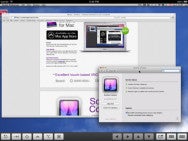 Screens: One of the cool things about the rise of iOS is that it lets you leave your computer behind—without ever leaving your computer behind. Mirroring apps for the iPhone and iPad let you navigate and view your desktop computer from a remote location. The $20 Screens VNC app is among the most-lauded offerings of this type. Developer Edovia this week released Screens 2.0, a universal app that works on all iOS devices. New features include a redesign of the user interface, including a new toolbar across the bottom of the screen lets you easilyt access all the features. The upgraded app also features keys for SSH tunneling, as well as AirPlay support, so you can view your remote computer on a larger TV screen. The app also lets you take screenshots of your remote desktop and lets you synchronize your bookmarked connections between all your iOS devices via iCloud. The app is only compatible with devices running iOS 5.0 or later.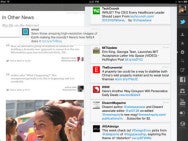 Storify: Way back in the olden times—as far back as the year 2000—journalists would sometimes leave their offices to go ask people on the street what they thought about the news of the day. The result would be what was called a "man on the street" story. These days, nobody really goes outside and talks—we're all too busy posting updates to Twitter! Storify has been a hot tool among reporters of the new age, who use the tool to create "social stories" out of Twitter dialogues, then post them to the website of their choice. Now the service has a new, free iPad app that lets users browse Twitter, Facebook, YouTube, and Instagram, and drag media from those sites to create a piece of digital journalism. Of course, you can still leave the office to do journalism—the portability of the iPad means you can go sit in a coffee shop to do your reporting!
Twitter: Hey, we get it: All the cool kids use Tweetbot to check Twitter on their iPhone. But Twitter's own free native app for the iPhone is getting better and more usable all the time. This week's update, for example, includes one feature we've long hoped for: The ability to copy-and-paste from tweets and user profiles. Other good stuff: New font size settings, quicker startup times, and the ability to look at a user profile and see if that person is following you. There are also some navigation improvements, including swipe shortcuts and press-and-hold action for links. Finally, Turkish is now a supported language. There's something for everybody to love.
Ticket to Ride Pocket: While the iPhone version of this popular railroad-building game recently leapfrogged its iPad predecessor by adding online asynchronous play, the newest update adds another missing feature that its tablet-based sibling posseses: additional boards and destination tickets. So far, Ticket to Ride Pocket has added only three variations to the existing U.S. map: Classic 1910, Mega, and Big Cities. They're all available as part of a $1 in-app purchase, once you upgrade to version 1.2 of Ticket to Ride Pocket. Hopefully, this means that additional maps—the classic Ticket to Ride Europe, for example—are also in the offing.
[Senior associate editor Dan Moren contributed to this story.]