You may want to sit down, because we're going to talk about the iPad—and sitting is really the most comfortable way to use it, isn't it? Apple on Tuesday invited members of the media to a special event on March 7 at 10 a.m. Pacific.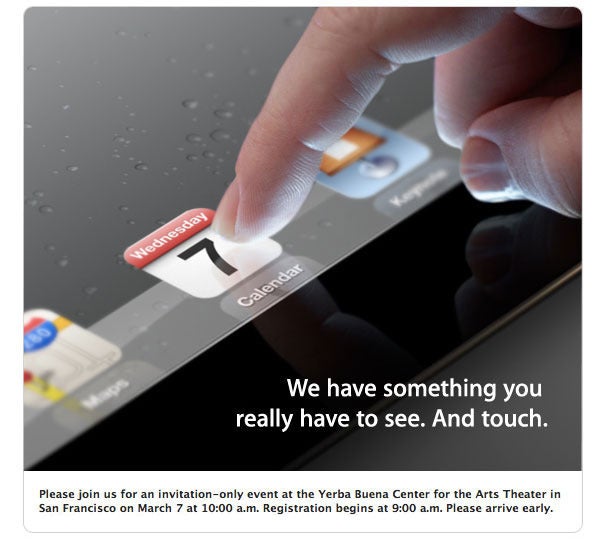 "We have something you really have to see. And touch." reads the invitation, received by Macworld, which also shows a finger tapping on the Calendar icon on an iPad screen.
The event will take place at the Yerba Buena Center for the Arts in San Francisco, which has hosted numerous Apple events in the past few years—including the unveiling of both the original iPad and the iPad 2. That, and the invitation's image, would seem to guarantee that we'll see an updated iPad at the event.
As for what such an updated iPad will contain, rumors are fierce, but the leading theory is that Apple's tablet will receive a Retina display, doubling the resolution over the previous models. Additional speculation suggests that a new iPad—presumably the iPad 3—will also see updated cameras, and possibly a new processor in the form of Apple's A6.
One thing that has been kept firmly under wraps, however, is any software improvements that might accompany a new iPad. Siri seems like a potential candidate for inclusion in the updated tablet, which would make it the first device besides the iPhone 4S to feature Apple's virtual assistant, but the technology would also likely require improvements to the iPad's microphones and sound-processing hardware.
Whatever Apple announces, Macworld will be on hand with live coverage of the event, so be sure and tune in next Wednesday for our full rundown on the latest developments.
[Updated at 9:16 a.m. PT with more information about the invitation. Macworld editorial director Jason Snell and senior associate editor Dan Moren contributed to this report.]