Could there be a new iPad in our immediate future? It appears so, if Apple's planned media event next week is any indication.
Apple sent out invitations Tuesday to Macworld and other media outlets for the March 7 event. And based upon the invitation imagery—a hand hovering over an iPad display—the prevailing word on the street is that Apple will likely take the wraps off the iPad 3 next Wednesday. Unless it takes a page out of the iPhone's playbook and gives us an iPad 2S instead, that is.
Should an updated iPad be on the agenda for next week, there are things we think we know about the iPad 3, features we're less certain about, and then a few features we're quite certain won't make the cut.
What seems likely
Display fair: Of all the rumored features that the iPad 3 might include, none have been rumored louder than a Retina display. That's the term Apple coined to describe the screen it initially unveiled with the iPhone 4—a screen with a pixel density so extreme that, at normal viewing angles, the average human eye literally can't discern the individual pixels. The iPad, however, has never sported a screen of that quality, even as the iPod touch got in on the Retina display action. A Retina display on the iPad would be no small feat, especially at the iPad's current price, but it seems likely that Apple really will implement the display on its tablet.
Photo finish: The iPad 2's cameras are mainly good in comparison to the cameras on the original iPad—which, as you may recall, did not have any cameras. Still, in comparing them to, say, the iPhone 4S's, or even the iPhone 4, the iPad 2's cameras leave much to be desired. While some may argue that the iPad doesn't get used to take pictures in the same way that your phone does, there are plenty of apps that use the camera for other tasks, like video capture and chat, data input, and games. So why not punch up those cameras on the iPad 3? They don't necessarily have to be of the same quality as the cameras built into the iPhone 4S, but the ones from the iPhone 4 would be more than sufficient for now.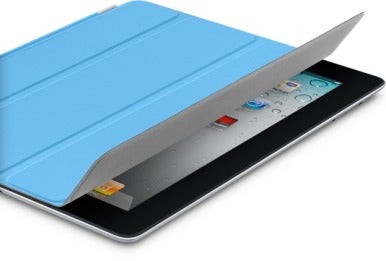 Et tu, iPad 2?: While it's not an iPad 3 feature per se, odds are pretty good that Apple will follow its iPhone line model and offer a discounted version of the iPad 2 following the iPad 3's launch. A discounted iPad 2 still might not get as cheap as the Kindle Fire, but a $300 iPad 2 with limited storage space might look awfully appealing to folks over any of the numerous, interchangeable, and bland tablet competitors in the market.
True to form: The rumor mill suggests that the iPad 3 will look an awful lot like the iPad 2, though not entirely identical. But we envision a design change far less dramatic than the changes between the original iPad and its successor—don't expect any major hardware changes or new buttons. Some have suggested that Apple might go so far as to remove the Home button in the new iPad, but we don't think it likely since it provides a convenient and impossible-to-lose anchor for users.
Carrier on, my wayward son: And let's not forget carrier deals—the iPhone isn't the only device that can be used on a cellular network. Right now, the iPad 2 is available with a 3G data option for either AT&T or Verizon in the U.S. The iPhone 4S, of course, is also available with Sprint, so it certainly seems like a no-brainer that the company will roll out an iPad model compatible with that carrier's network. That's aided by the fact that Sprint and Verizon both use the CDMA standard for their cell networks, so it should be little trouble for Apple to add a third model.
What might be possible
Come on baby, LTE my fire: Much virtual ink has been spilled on the possibility of an LTE-compatible iPad. LTE, or Long-Term Evolution, is the next-generation protocol for cell networks—in many case, it's what carriers are talking about when they brag about their 4G service.
This new technology has the potential for much higher data speeds than the current 3G technologies, but it's not without its drawbacks: Currently, for example, LTE chips consume much more power than their more economical predecessors. Then again, the iPad, with its usually stellar battery life, may be more able to take that hit than the iPhone, especially since users probably rely more on Wi-Fi than cell signals.
But the bigger road block may be the availability of 4G networks, which are only now being rolled out by the carriers in major markets. It's a definite possibility for the iPad 3, but given the early nature of the technology, we wouldn't be surprised to see it delayed to a future model.
Quad-core-rophenia: You can never have too many processor cores, right? The iPad 2's A5 chip sports two cores, packing significant punch over the single core in the original iPad. Apple has shown that it thinks the future isn't just faster processors, but multicore ones. So the company's rumored A6—which would follow logically on the heels of the A4 and A5—could pack four cores, possibly once again giving the device a big boost over its predecessor. Such a change would likely come with a power-consumption price tag, however, especially if combined with LTE. But the improvement in processor capabilities would be nice, especially for those constantly power-hungry games that people so love to play on their tablets.
Touch-a, touch-a, touch-a touch me: Looking back at the invitation to the iPad event, it says: "We have something you really have to see. And touch." The first sentence (or, for pedants, the only sentence) seemingly refers to the Retina display. But the follow-up fragment may just imply that the iPad 3 employs some sort of haptic feedback—a tactile response when you touch the screen. Of course, the "And touch" line could merely be nothing more than marketing-speak. But typing is probably the least satisfying element of using an iPad to date. Haptic feedback coupled with the on-screen keyboard might make multitouch-typing a bit easier, if you could feel some physical sensation as you "depress" the virtual keys.
On the software side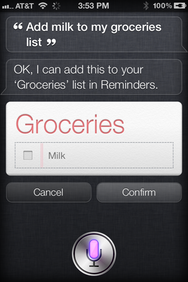 But Siri-ously, folks: To date, the iPhone 4S is the only Apple product that offers integration with Siri, the company's artificially intelligent voice recognition assistant. The iPad 3 may finally buck that trend, offering the ability to set reminders, appointments, and timers; compose emails and iMessages; find friends and addresses; look up all sorts of data; and, of course, flirt—all by talking to the tablet.
Picture imperfect: You can kiss any dreams of iWeb for iOS goodbye, but there is one major app from Apple's desktop offerings that's yet to make an appearance on the iPad—iPhoto. The Photos app on the iPad today is awfully limited compared to iPhoto on the desktop; it lacks the sort of feature parity that Calendar, Mail, and Contacts seem to offer with their respective desktop counterparts. If the iPad 3 really does include better cameras, that coupled with iCloud's Photo Stream may well mean that better, more iPhoto-esque photo management could launch alongside the iPad 3.
Office space: Last week, The Daily reported that Microsoft was hard at work on Office for iPad. Microsoft suggested that The Daily was bonkers, but did so without denying that Redmond was, in fact, hard at work on Office for iPad. Though some have argued that letting Microsoft unveil Office for iOS at the iPad event would be more beneficial to Microsoft than Apple, there's no denying that there are those in the business world who won't be satisfied until they get a native Word experience on the tablet. (There are far fewer rooting for the triumphant return of Clippy.)
Point-release break: It's also possible that Apple's been holding off on the release of iOS 5.1 so that it can coincide with either the iPad 3's announcement or release. If that's true, we might learn about some small systemwide improvements that are coming soon. For example, the company announced both iOS 4.1 and 4.2 at a music event in September 2010, which saw the introduction of features like Air Play, Air Print, and Game Center.
New app-ortunities: iWork for the iPad was announced alongside the original iPad; when Apple unveiled the iPad 2, it released GarageBand for iPad too. Thus, if history is any guide, we might not just learn about the next iPad on March 7; we might meet some new iOS software, as well. And it wouldn't be shocking to hear about small or significant updates to Apple's App Store apps that we already know about—the aforementioned iWork apps and GarageBand chief among them.
What we don't expect
A smaller iPad: Apple will bundle a stylus with the iPad before it releases a 7-inch version of the tablet.
A stylus: Apple will shut down its company and return the money to the shareholders before it releases a stylus for any of its touchscreen devices.
The iPhone 5: This is not an iPhone event, people. The iPhone 4S isn't even six months old yet, so don't expect a newer model.
An updated Mac Pro: We don't even know what article you're reading anymore.
One more thing…
Even the predictions we're most confident about are really just educated guesses. We won't know anything definitively until Apple tells us. Macworld will, of course, be at the event in person, with live coverage of whatever Tim Cook and company choose to share; don't miss our liveblog on Wednesday, March 7 at 10 a.m Pacific, 1p.m. Eastern.
[Lex Friedman is a Macworld staff writer; Dan Moren is a senior associate editor.]