Like an ace pitcher debuting a new fastball at spring training, MLB.com is serving up a new look for its iOS offerings just in time for the coming season.
In the past, Major League Baseball's mobile app was available as a free basic app and a more fully featured paid version. The app also came in separate versions for the iPhone and iPad. That's changing with MLB.com At Bat 12, which is set for a Wednesday debut in the App Store. This season, there's just one version of the app that will run in optimized form on all of Apple's iOS devices. And users will have a few options on how to pay for the app's more advanced features.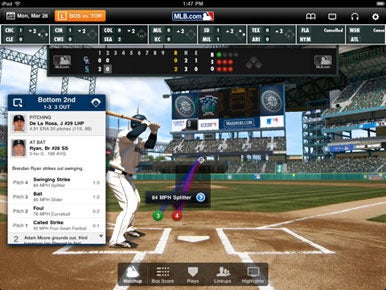 MLB.com At Bat 12 is a free download, with the same basic scoreboard functionality as the old lite version of the app. A $15 in-app purchase enables features that were previously only available on the paid version of the apps: Pitch-by-pitch updates, in-game video highlights, pitch tracking, and live audio broadcasts of each game. There's also live video of one MLB.com-selected game each day.
Should you balk at the $15 in-app purchase, MLB.com is adding a monthly option this year. For $3 per month, you can experience the full features of the app without committing to a full season.
"Consumers love options," MLB.com vice president of corporate communications Matthew Gould told Macworld, adding that the monthly option could appeal to former users of the lite version who had yet to experience the full paid version of the app.
The latest version of MLB.com at Bat has something for MLB.TV subscribers as well. In the past, subscribers to the premium MLB.TV package still had to pay for the mobile app in order to watch live streams of every out-of-market game on their iOS device. This season, MLB.TV premium subscribers will be able to get all the features of the At Bat app at no additional cost. (A login screen will provide access to MLB.TV customers.) The bottom line: MLB.TV subscribers who used to have to pay $150 for both the live streaming service and the iOS app will now get the same functionality for the price of their $125-per-year subscription.
Wednesday's release of At Bat isn't the only mobile offering MLB.com has planned for the 2012 baseball season. The developer plans to roll out another app right around Opening Day that's aimed at fans headed to the ballpark. The unnamed app builds upon the location-aware check-in functionality included in the At Bat offering to serve up stadium-specific offers and services.
A fan at ballpark in San Francisco, for example, could check in with the in-stadium app to get an interactive map of the stadium, order food, send text messages to stadium security, or receive promotional offers from the ballclub. Because the app is location-aware, that same fan could head across the bay to the ballpark in Oakland for content geared to that specific stadium.
The yet-to-be-released app will also feature social networking integration, Gould says, so you can let all your Facebook fans and Twitter followers know that you're at the game from within that app.
If you watch MLB.TV live streaming through your Apple TV, get ready for some changes as well. Gould says MLB.com is planning some interface enhancements, though it's not releasing any details about its plans right now.