National Public Radio recently optimized its free NPR Music to run natively on the iPad; previously, the app had been limited to the iPhone and iPod touch. This revamped version, which lets you access both live music-centric NPR streams and archived content, has plenty to offer music lovers.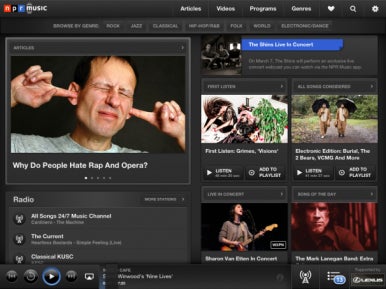 NPR Music's home screen serves up links to featured stories, radio stations, headlines (such as upcoming concerts), and archived audio and video performances and interviews. You can further navigate around the app using a variety of buttons, which are laid out differently depending on whether you're using the roomier iPad version or the more compact iPhone version. The iPad version features Articles, Videos, Programs, Genres, Favorites, Search, and Settings buttons on the app's Home screen. On the iPhone, you find Home, Radio, Artists, and Playlist buttons arrayed along the bottom of the screen. It's on the app's Home screen that you see links to radio, programs, concerts, blogs, and new additions. You can find much of the same content with each version of the app, it's the navigation that differs.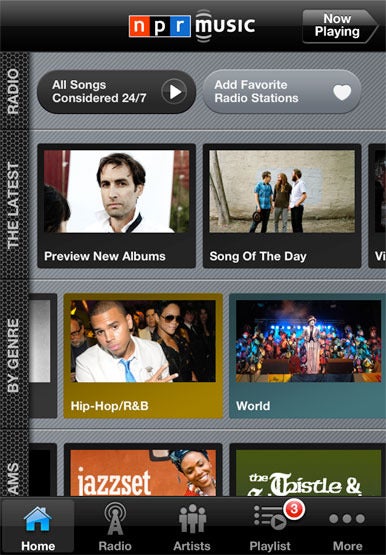 The apps offer a variety of music-related NPR content including audio tracks, videos, and text articles as well as the live radio streams. In the iPhone version, you find links to archived programs that include All Songs Considered, Alt.Latino, World Cafe, Marian McPartland's Piano Jazz, Mountain Stage, JazzSet, and Thistle & Shamrock. The iPad version delivers additional links to First Listen, Song of the Day, NPR Music Live, Tiny Desk Concerts, Favorite Sessions, and 50 Great Voices. It's unfortunate that the iPhone version doesn't display these additional programs, as many of them are quite popular. Although not specifically listed, you'll also find audio clips taken from the popular Fresh Air program.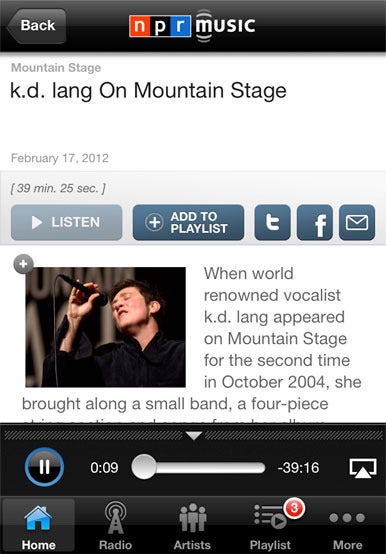 The app includes a Playlist button for viewing those items that you've added to its playlist. With the iPad version of the app, not only can you add items to that playlist, you can save them to listen even when you're offline—a good idea if you don't want to want to eat up a chunk of your 3G data plan streaming videos, or if you're using a Wi-Fi-only iPad and you're nowhere near a network. Regrettably, the iPhone/iPod touch version of the app doesn't support offline listening; you can only stream content. Both versions support AirPlay, so you can play back music and video over an AirPlay-enabled speaker or on an Apple TV.
Along with the play controls, you'll find a Radio button that takes you to a list of NPR stations organized by rock, jazz, and classical genres. The apps let you designate favorites for easy access.
Quality of the streaming radio varied when I tested the app, since not every station streams at the same bit rate. It would be nice if NPR Music gave some indication of the bit rate at which each station streamed, which would save users the trouble of tapping around to find the highest-quality stations. Because many of the stations are streams of terrestrial NPR stations you'll hear the occasional radio host and, at certain times of year, pledge drives.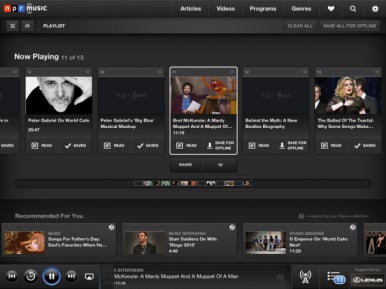 In the iPad version there's no Now Playing screen when you're playing a radio station. (The iPhone version does have such a screen.) Instead, play controls appear at the bottom of the screen; information about the currently playing track appears in a timeline area. In each version of the app, if you want to adjust the volume, you need to toggle the volume control buttons on the side of your iOS device or use the volume control in the multitasking dock—there's no on-screen volume control.
Because NPR has covered music for years, there's an extensive backlog of material available through NPR Music. You can spend hours looking up favorite artists and playing old interviews and performances, as I did.
I found both the iPad and iPhone implementations of NPR Music to be well put-together. Their layouts are solid, the designs attractive, and they're easy to navigate. But the iPad version has the edge. As I mentioned, the iPad version provides links to more programs. Also, the iPhone version lacks a global search option—one that allows you to search all content rather than simply artists. And the iPad app produces better search results. For instance, I searched for "Adele" on the iPad app and was able to locate her Tiny Desk Concert. The iPhone app drew a blank on that particular video even though I found Tiny Desk Concert performances from other artists.
The iPad version isn't perfect, however. Unlike the iPhone version, it can be sluggish. For example, when I tapped its Playlist button, it took around 12 seconds to finally display my playlist. When I tapped the app's Home button, it took at least that long to completely load the homepage due to its updating the featured content thumbnails. The iPhone version of the app is much sprightlier.
Most of the time the iPad version's video and audio are quite good. However, using a DSL connection that downloads at around 4 Mbps, I found that at times the iPad app would play videos before enough of the stream was cached to ensure good-looking video and clear audio. Even when getting a solid stream, the quality depends on the bit rate delivered to you. Overall, I was quite happy with what I heard—both with headphones and over AirPlay. I didn't see these kinds of issues with the iPhone version.
NPR Music has great archived content and radio stations, lovely designs, and is free (though the iPad version does feature advertising). Other than occasionally poky performance in the iPad version and incomplete search results in the iPhone version, there's very little to dislike about the apps. Unless your tastes run to the kind of music unlikely to be featured by NPR Music, the app is a worthy addition to your iOS devices.
[Christopher Breen is a senior editor for Macworld.]
Note: When you purchase something after clicking links in our articles, we may earn a small commission. Read our affiliate link policy for more details.