For more than a year, Square has been on the leading edge of a revolution in commerce with its app that let merchants use iOS devices as credit card readers. On Monday, it expanded its efforts with a new app that turns an iPad into a fully-functioning cash register.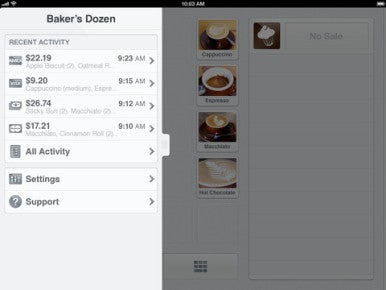 Like its predecessor, the new Square Register app lets merchants take and process credit and debit card payments without having to pony up for a traditional—and expensive—card-reading system. (With both apps, you must have a Square account, and obtain a free Square card reader, which plugs into the iOS device's headphone jack.)
But Square Register offers an expanded range of features, letting merchants add photos, names, and prices of the items in their sale inventory to enable a "fast checkout" process that tallies up, records, and processes a full sale. The app also tracks repeat customers, helping merchants who want to reward loyalty by offering discounts and rewards to their regulars. And Square Register also offers an analytics program to track the best-selling items and the most-profitable times of day. The app can also wirelessly connect your tablet to a receipt printer and cash drawer. (See the video below for a full tour of the capabilities.)
The app is free, but it does come with a cost: Square charges a 2.75-percent fee on every swipe of a Visa, MasterCard, Discover, or American Express. But merchants may find that they spend less on a basic $500 iPad using Square Register than they do on a typical touchscreen cash register that, after all, can't be taken home and used to read or watch movies.
As Apple has grown its share of the enterprise market in recent years, there has been a lot of talk about the " consumerization of tech"—the idea being that business executives love their iPhones and iPads so much that they've forced otherwise-skeptical IT managers to allow those machines in the workplace. But Square offers another wrinkle to that process: Apple products might be expensive in the consumer marketplace, but—in combination with developers like Square and its competitors—they are often cheaper than the equipment that entrepreneurs would otherwise need to buy for their new and small businesses, offering Apple a grassroots entry avenue into the enterprise market.
Square Register is compatible with iPads running iOS 5.0 or later.