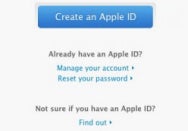 Authors note: The following technique isn't working for those who've tried it. I'm investigating further, seeking clarification from Apple. When I have that clarification I'll edit this entry. Thanks for your patience.
A reader who wishes to remain anonymous would like help with his Apple ID. He writes:
I am a longtime user of Google's services, but with the company's increasing privacy concerns, I am going to migrate solely to iCloud. One thing I am getting hung-up on, however, is my Apple ID. Currently my Apple ID is my Gmail account. Since I am leaving Gmail, I want to change my Apple ID login to this me.com address. Do you have any tips to accomplishing this seemingly simple task?
Yes. Proceed to the My Apple ID web page and click on the Manage Your Account link. After you've logged in with your Apple ID and password, click the Sign In button. If you have anything but a .mac or .me address you should see an Edit link next to the email address that appears under the Apple ID and Primary Email Address heading in this screen. Click it and enter and verify your iCloud address.
I cite the .mac and .me exceptions because no Edit button appears in this screen if you have one of these addresses. If, for some reason, you need to disassociate your Apple ID from such an account (or you're having a problem using the method I just described), you'll need to contact Apple to arrange it. You can do that through the iTunes Support web page.
Updated to add: Some readers are confused about what this tip is really about. To clarify, this will not allow you to merge Apple IDs—merging addresses is something that Apple doesn't appear to support (and, like many of you, I'd like it to be supported). Rather, you use this if you're going to be abandoning an email address altogether and need to associate a different email address with your Apple ID.
And I will again emphasize that if you receive an error when attempting to do this (the MobileMe error that some have cited) you then turn to the iTunes Support link I provided earlier.