Pocket Casts—a $2 iPhone podcasting app from ShiftyJelly—does a lot of things really well.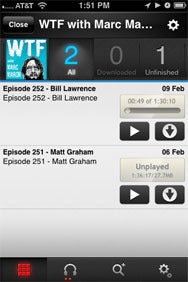 It's got an attractive user interface. It offers AirPlay compatibility so you can play podcasts on your stereo or video podcasts through your Apple TV. It allows you to share thoughts on your favorite podcasts and podcast episodes via Twitter. After a recent update, it lets you create playlists by tapping episodes. And it doesn't overlook the basics, enabling users to efficiently search and subscribe to the podcasts of their choosing. This is a good app.
But it doesn't exist in a vacuum. All those good things that Pocket Casts offers can also be found in competing apps like Downcast and iCatcher. But those apps go one step further: They're optimized for use on both the iPhone and the iPad, and use iCloud to let users sync their listening between devices. Pocket Casts does not, though it does let you email a list of your podcast subscriptions to yourself.
So there's nothing wrong, and a lot right, with Pocket Casts. It's just that similarly priced competitors offer just a little bit more. With a few adjustments, Pocket Casts could join its competitors in the top tier.
[Joel Mathis is a freelance journalist and political columnist for Scripps Howard News Service. He lives in Philadelphia.]
How does Pocket Casts measure up with other podcasting apps? We compare nine iOS podcast managers.
Note: When you purchase something after clicking links in our articles, we may earn a small commission. Read our affiliate link policy for more details.