Stitcher Radio is remarkable. Where most audio apps for iPad and iPhone focus either on delivering Internet radio or offering a channel for your favorite podcasts, this free app for iPhone and iPad blends both offerings —and displays them all in a unique, magazine-style user interface with social networking options that go beyond the standard.
After creating an account with the app—this lets you sync your playlists and preferences between your iPad and iPhone— Stitcher greets you with a "front page" of audio news stories from popular podcasts. (Visually, this looks more like CNN's app than any of Stitcher's audio-oriented competitors; the display is functional on the iPhone but quite elegant on the iPad.) You can click on those stories, or select from a menu of live online radio stations and podcasts for listening.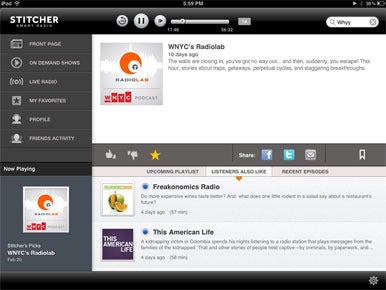 You can share your listening habits on Twitter and Facebook—in fact, the app includes Spotify-style networking that lets you connect with other Stitcher-using friends and check out their listening habits. There's also a dashboard that lets you track your listening time, the number of podcast episodes you've heard, and the number of days in a row you've used the app.
But more interesting is how Stitcher responds to your preferences. Tap on the thumbs-up or thumbs-down on those front page news stories, for example, and—like Zite—the app uses that to shape which news it shows you in the future. Listen to the Radiolab podcast, and you can see Amazon-style recommendations showing that other listeners also like to listen to This American Life. Similarly, if you "favorite" a radio station or a podcast, Stitcher uses that information to create a Pandora-style "station" made up of your favorite shows.
I'd be tempted to kick all the other audio apps off my iPad, in fact, except for one minor detail. While an expansive list of radio stations is available, it isn't complete. WHYY, my local NPR affiliate, can't be heard live on Stitcher—though I can listen to podcasts produced by the station. It's the one shortcoming that keeps this app from being perfect.
Mostly, though, Stitcher is a smart rethinking of how to present audio on the iPhone and iPad—one that encourages exploration of content you haven't heard before, but which also makes it easy to listen to precisely what you like. This is one of the best apps out there.
[Joel Mathis is a freelance journalist and political columnist for Scripps Howard News Service. He lives in Philadelphia.]
How does Stitcher Radio measure up with other podcasting apps? We compare nine iOS podcast managers.