If all you want from a podcasting app is to be able to listen to This American Life on your phone, then Podcast Pro—a $1 offering from Stanton—will do the job. If you're looking to get beyond the basics, though, you might look elsewhere.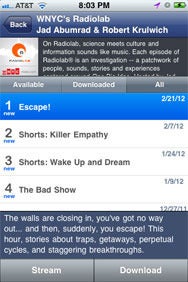 Podcast Pro lets you find and subscribe to podcasts quite easily. If you have podcast episodes lurking in your phone's iTunes account, the app will import and play those, too. You can download episodes or stream them, and if you pause mid-stream to go do something else, the app will pick up at the right place when you re-start later.
But Podcast Pro doesn't let you play the podcast at a faster or slower speed. It's not optimized for iPad use, nor will it sync podcasts with other iOS devices. You can't post to your social media networks about your favorite podcasts from within the app. There are many podcasting apps that do precisely those things.
Basically, you can subscribe and listen to podcasts on this app, and that's it. If that seems limited, well, that's not all bad—at $1, Podcast Pro is half the price of many competing apps that offer far more options. If you want to get back to basics, this is where you go.
[Joel Mathis is a freelance journalist and political columnist for Scripps Howard News Service. He lives in Philadelphia.]
How does Podcast Pro measure up with other podcasting apps? We compare nine iOS podcast managers.