If there's a better podcasting app than Downcast, I haven't encountered it. The $2 universal iOS application from Jamawkinaw Enterprises exceeds every expectation a podcast lover might have—and creates a couple of new ones in the process.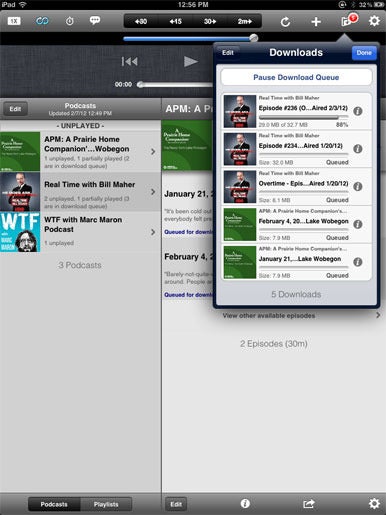 Like most iOS podcasting apps, Downcast lets users easily search for and subscribe to podcasts directly from their device. The app also allows you to create playlists, so that you can arrange to listen to Radiolab right after This American Life without too much toggling. And—as is standard these days—the audio can play in the background while you use other applications. You can also share your listening habits with Twitter and Facebook friends. So far, so good.
Downcast distinguishes itself in three ways.
The navigation in Downcast is better than most apps of this sort. You don't have to spend much time guessing how to share via social media or alter the playback speed. The nav icons are intuitive to figure out and use.
Unlike most podcasting apps, Downcast doesn't assume you listen only on the iPhone. The universal app is also native to the iPad, and looks great there.
Best of all, you can sync Downcast between your iPhone and iPad without much effort. Assuming you used the same iTunes account to download the app to both devices, you can use iCloud to sync episodes, podcast subscriptions, and playlists between devices. This is where Downcast separates itself from its closest competition, iCatcher, which uses iCloud in much more limited fashion.
There are other nifty details: A sleep-timer, AirPlay compatibility. This is a feature-packed app. Downcast will definitely make you feel upbeat.
[Joel Mathis is a freelance journalist and political columnist for Scripps Howard News Service. He lives in Philadelphia.]
How does Downcast measure up with other podcasting apps? We compare nine iOS podcast managers.