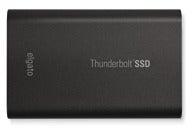 Elgato on Tuesday announced its entry into the storage market with its new Thunderbolt SSD, a solid-state drive designed for use with Macs equipped with a high-speed Thunderbolt connector.
According to the company's website, the Thunderbolt SSD is capable of reading data at a rate of 270MBps—that data was gathered using a 15-inch 2.2GHz Core i7 MacBook Pro and the Extended Test in the QuickBench benchmark tool. A Thunderbolt channel, based on the specification, can provide up to 10Gbps of data throughput.
The Thunderbolt SSD is available in two capacities. The 120GB version is $430. The 240GB model is $700. An Elgato representative said that the drive will be available in the U.S. in a week, but the drive is available in Europe now.
The drive has only one Thunderbolt port, which means that if you have multiple Thunderbolt devices, the Elgato drive must be the last device in a daisy chain. The drive does not have FireWire or USB ports.
Elgato is known in the Mac community for its TV-related products, such as its video capture devices and the EyeTV line of TV tuners. While Elgato's entry into the highly competitive storage market may seem odd, the Thunderbolt SSD may be a good fit for the company. Elgato's products tend to attract the attention of users who work with video, and these users value fast data throughput, the kind that's offered with Thunderbolt. The company says it has a history in storage; according to the company's website, "early flash-based products were powered by Elgato," and FireWire drives cames with Elgato software.
Thunderbolt made its debut on new Macs last year, and the Thunderbolt market for storage devices is still in its infancy. The first Thunderbolt storage devices, targeted at high-end video production, were multi-drive RAID arrays that cost thousands of dollars. Affordable Thunderbolt drives for the general consumer are few, but more are starting to make their way to market, with the recent release of devices such as LaCie's Little Big Disk and Seagate's GoFlex Thunderbolt adapter for the GoFlex portable drives, as well as the announcement of Western Digital's My Book Thunderbolt Duo. Obviously, Elgato hopes to take advantage of the slim pickings in the consumer market with the release of its Thunderbolt SSD.