Reader Dave Griep has tired of some of the email he's received. He writes:
I had a weak moment one day and entered my email address on a site that was nothing but a spam generator. I've marked messages from this site as junk but I continue getting spam in my Inbox. I'd like to create a blacklist and whitelist in Mail but can't find a way to do it.
Although Mail has no specific blacklist and whitelist feature, you can create such lists with Mail's rules. Like so:
On your Mac launch Mail, click the Plus (+) button at the bottom-left corner of the Mail window, and choose Add Mailbox from the menu that appears. In the resulting New Mailbox sheet choose iCloud from the Location pop-up menu and enter a name such as Blacklist in the Name field. Follow the same procedure if you'd like to create a Whitelist folder. Thanks to the nature of your iCloud account (it being an IMAP account) any folders you create within your iCloud account will also be available on your iOS devices and on the iCloud website.
Now open Mail's preferences and click on the Rules tab. Click the Add Rule button, and configure one rule to read: If From Contains spammeraddresses, Move Message to Mailbox Blacklist (where spammeraddresses contains any address you've associated with this cruft). Name your rule Blacklist and click OK. From this point on, messages from this source will be moved to the Blacklist folder.
As for a whitelist, you can simply let your Blacklist rule and Mail's junk filtering deal with the bad stuff and continue to receive the good stuff in your Inbox. If you deeply desire a whitelist, you can create a rule that looks for specific good addresses and moves messages from them to a Whitelist folder.
But suppose bad messages originate from a variety of From addresses—ones that you can't anticipate? Give this a shot: In Mail select a sample spam message and choose View -> Message -> All Headers. Locate the Received entry near the bottom of the header (the last one) and search it for an IP address—192.168.110.11, for example. Make a note of that address as it's likely the spammer's originating IP address (or the IP address of the service that relayed that spam). Now open another spam message and see if you can find that same IP address. If so, then you have enough information to create a blacklist rule based on that IP address.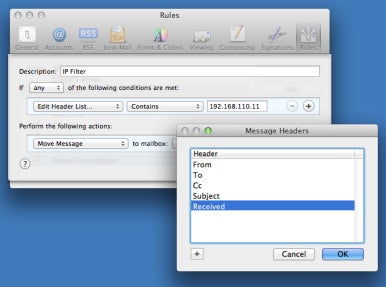 Return to Rules, create a new rule, and from the first large pop-up menu (the one that appears below Any) choose Edit Header List. In the Message Headers window that appears, click on the Plus (+) button and in the resulting empty field enter Received and click OK. Now click once again on the rule's If pop-up menu and choose Received. Configure the rules so it reads If Received Contains spammerIPaddress Then Move Message to Mailbox Blacklist. (spammerIPaddress is, of course, the IP address that you found in the header.) In the future, any messages that contain that IP address will be moved to your Blacklist folder.
If you find that the rule is filtering a lot of good mail into your Blacklist folder, you've likely grabbed one of the IP addresses that your ISP uses to deliver your email. Try again with an IP address farther down the line.
You can also create rules on the iCloud website, but you don't have nearly as many options as you do with Mail. You can create only If conditions that read Is From, Is Addressed To, Is CCed To, and Has Subject Heading Containing. You can use these conditions to create basic black- and whitelists but nothing fancy.
The other option is to forget about creating rules and lists and instead get an effective anti-spam utility. And when I say effective I do mean C-Command Software's $30 SpamSieve ( ). We don't dish out five-mouse ratings lightly, but in this case it's completely deserved. I've relied on SpamSieve for years as have many of my colleagues. It really is the best way to deal with this crud.
SpamSieve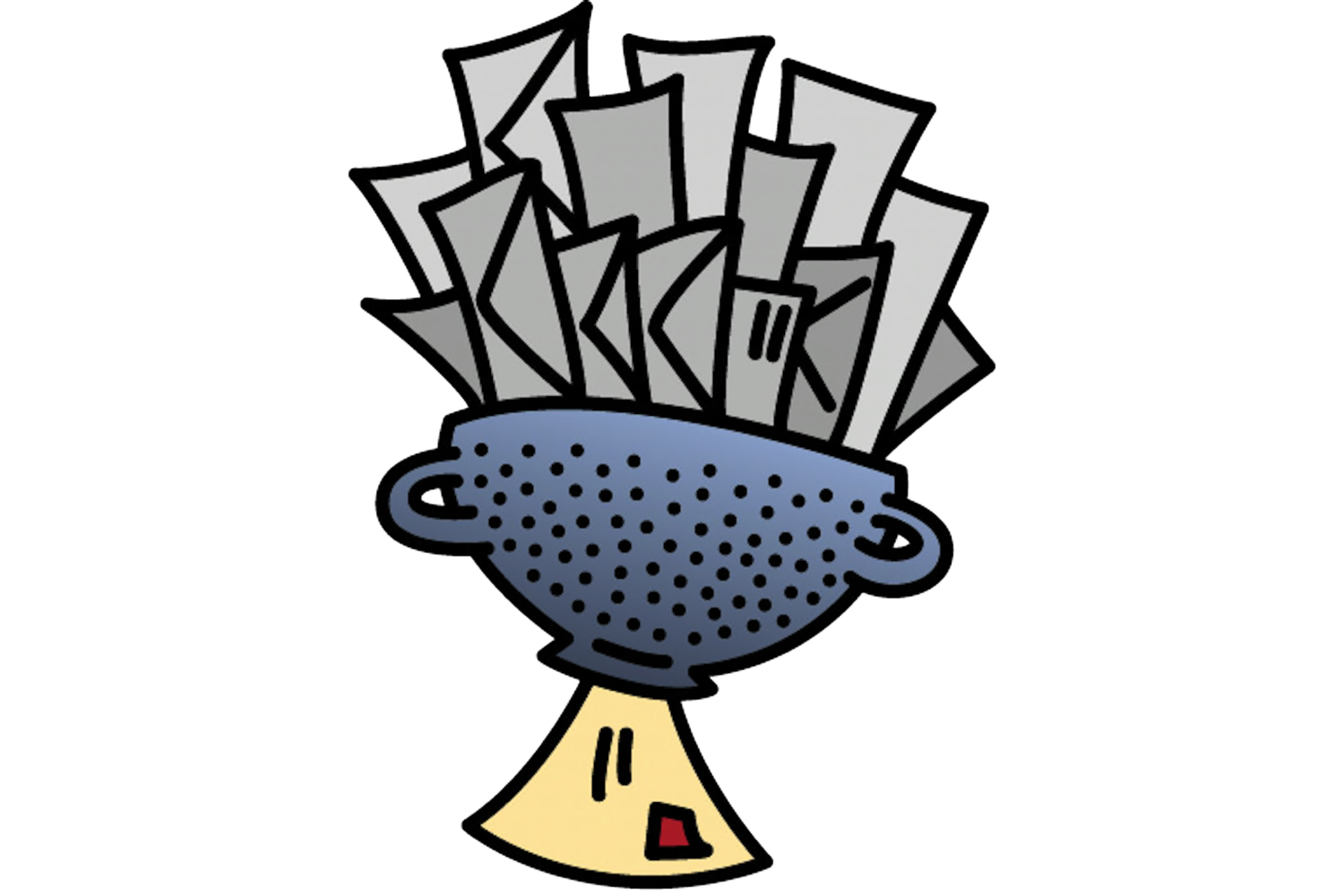 MSRP:
$30 single user; $48 family or 2 users; site licenses available
Read our full
SpamSievereview