Announced Wednesday, Apple's new iPad impresses in many ways. But perhaps most impressive of all: the device's new Retina display.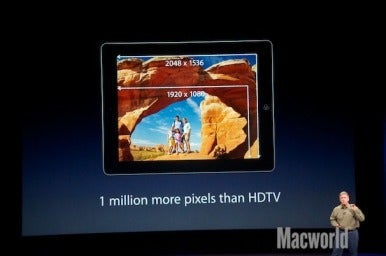 "For the first time, an iPad has a higher resolution than even the display behind me," said Apple senior vice president of worldwide marketing Phil Schiller, who was brought on stage to introduce the device. As rumored, the iPad's display sports a 2048 by 1536 pixel display—over three million pixels, a million more pixels than a 1080p HDTV—with 264 pixels packed within each inch of the device's 9.7-inch display. The display also features 44 percent better color saturation than the previous model.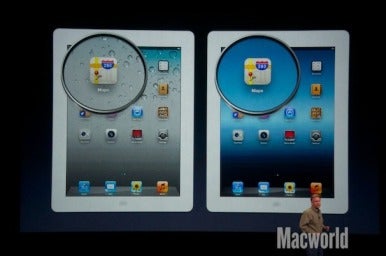 Apple first introduced the concept of a "Retina display" in the iPhone 4, which packed 326 pixels per inch into its 3.5-inch display. Rather than refer to a specific level of pixel density, the term defines how the average person sees a screen—at a certain distance away, the human eye can no longer distinguish the individual pixels on a device.
Although the new iPad has a lower pixel density (264 versus 326) than the iPhone 4 or 4S, that's largely due to screen size and relative distance—users hold the iPad further away from their faces than they might an iPhone.
To power the iPad's display and graphics needs, Apple has integrated an A5X chip with quad-core graphics. The company also dedicated a portion of Wednesday's event to encouraging developers to take advantage of these new features. Representatives from Namco, Autodesk, and Epic Games were on-hand to demonstrate upcoming gaming and artistic apps for the device.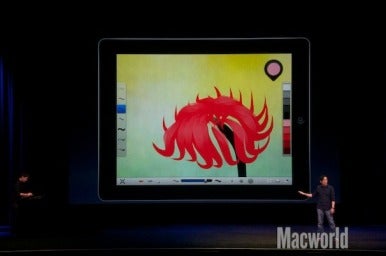 Namco showed off Skygamblers: Air Supremacy, an aerial combat game for the new iPad, while Epic Games gave a demo of the next game in the Infinity Blade series. Skygamblers boasts "console-quality" single- and multiplayer gaming; The new Infinity Blade, Dungeons, puts the user on a quest to discover the "ultimate weapon"—which just so happens to be the name of the franchise.
On the creative side, Autodesk has developed a new version of SketchBook called SketchBook Ink, a vector drawing app that integrates with SketchBook Pro to import and export sketches. According to Chris Cheung, SketchBook Pro's Product Line Manager, images can be zoomed and saved in excess of 100 megapixels.
Updated at 11:10 a.m. PT to add information about third-party apps designed to take advantage of the iPad's graphics capabilities.